Regeneration scheme delivering hundreds of new jobs gets underway this Autumn!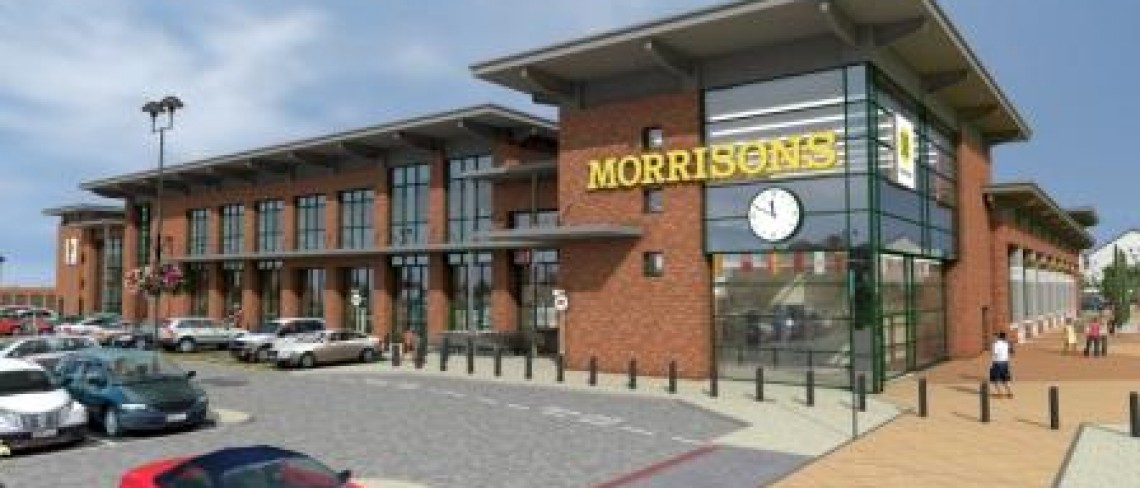 Regeneration scheme delivering hundreds of new jobs gets underway this Autumn!
Aug 2009
Construction work is to start in November on a £40 million retail development at Openshaw, east Manchester which will deliver a new supermarket and hundreds of new jobs in the area.
The scheme, being brought forward by award winning developers Dransfield Properties is the only private investment due to start on site in east Manchester this Autumn and once completed will create at least 450 new jobs.
Anchored by a much needed 79,000 sq ft Morrisons foodstore the scheme is being built on an 11.9 acre site off Ashton Old Road.
Dransfield Properties have been working with Manchester City Council and New East Manchester for in excess of five years to acquire the land to deliver this development which is a vital part of the carefully co-ordinated regeneration of the eastern side of the city.
The determination of local stakeholders to deliver the scheme despite the present economic climate demonstrates the confidence in the area to bring forward high profile regeneration schemes.
Site preparation work on the next part of the scheme will start in September - local contractors Windmill will undertake this work in preparation for construction to start in November.
It is intended that the District Centre Scheme will include a mix of uses that will provide a 79,000 sq ft Morrison's store as well as:
· 80,000 sq ft of smaller retail units
· 670 car parking spaces
· Stand alone office space
· A new health and fitness centre
· Improved outdoor spaces in the centre
· High quality public art
Retail Property Director for Dransfield Properties, Andrew Malley, said: "This is the culmination of more than five years working with local stakeholders and businesses to deliver this development. We would not be at this stage without the hard work and determination of both New East Manchester and Manchester City Council. Their support has been vital in progressing this scheme which is an important part of the wider regeneration of East Manchester.
"We have worked with and consulted all property owners from the early stages when the plans were first put forward to ensure that those businesses who wished to relocate had the support they needed to do so. Acquiring these properties is the final piece of the jigsaw and we are looking forward to starting on site in November."
The plans for this ambitious district centre development were approved by the City Council in May 2007.
Eddie Smith, Chief Executive of New East Manchester, said: "We welcome this significant level of private sector investment into east Manchester which will create new jobs for the area and be a real boost to the local economy. The scheme will extend and improve the retail offer along Ashton Old Road and complement other improvements to Openshaw including the new health centre, Sporting Edge sports facility and the high quality family housing development in the Toxteth Street area.
"The new district centre forms part of the wider regeneration plans for east Manchester which is being transformed with the help of hundreds of millions of pounds of public and private sector investment, creating vibrant and sustainable neighbourhoods for new and existing families to live."
For further information about Dransfield Properties visit the company's website at www.dransfield.co.uk
Editors Notes
1. The area subject to compulsory purchase is 4.82 hectares adjacent to and including part of the existing District Centre on Ashton Old Road, bounded by Turton Street and Rock Street, Ashton Old Road, Fairfield Road and part of the former GEC-Alstom factory.
2. A CPO inquiry regarding 19 properties was held in the summer of 2008 to confirm the Compulsory Purchase Order. The inspector's report concluded that there was a compelling case in the public interest for the land to be compulsory purchased to deliver the development.
3. Dransfield Properties was responsible for the award winning Marshall's Yard development in Gainsborough, Lincolnshire which opened in April 2007. The company is currently on site with a prestigious £32 million Sanderson Arcade development at the market town of Morpeth in the North East.
4. New East Manchester Ltd (NEM) is an Urban Regeneration Company - a partnership between Manchester City Council, the national housing and regeneration agency Homes & Communities Agency and the Northwest Regional Development Agency (NWDA). It is NEM's role to turn the Regeneration Framework into action, secure the required public and private funding, lead on specific major development projects and co-ordinate regeneration and renewal initiatives in the area.
For further information, contact:-
Public Relations Department, Dransfield Properties Ltd
Tel: 01226 360644
Email: pr@dransfield.co.uk