New Development for Stocksbridge Submitted to Planners!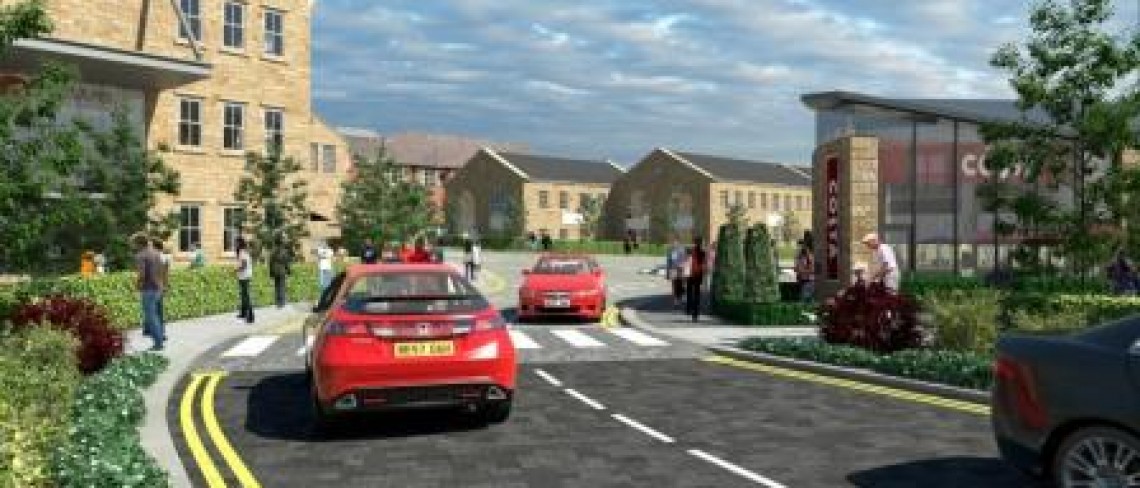 New Development for Stocksbridge Submitted to Planners!
Jun 2008
PLANS for a prestigious £46 million mixed use development in Stocksbridge which will create around 900 new jobs in the town have been submitted to Sheffield City Council.
Developers Dransfield Properties Ltd and Gallagher's UK are working in partnership with Corus and Outokumpu to bring forward the new development which will attract a mix of both national and local retailers.
The scheme will be built on the former Outokumpu steelworks site in Stocksbridge, it has been designed to retain the industrial heritage of the site as well as incorporating high quality public realm works.
The plans include :
Piazza areas with fountains
60,826 sq ft supermarket
90,085 sq ft of new purpose built non food retail space
28,770 sq ft of state of the art office accommodation
21,800 sq ft health & fitness club
Two restaurants
Improved pedestrian routes to Manchester Road
726 new customer car parking spaces
245 new long stay car parking spaces
Larger, purpose built retail units will be created as well as a parade of smaller shops to appeal to a wide variety of retailers keen to have a presence in this part of Sheffield.
Three separate consultation sessions have been held in recent months to give the community a chance to give their views on the plans - during the most recent 80 per cent of residents said they backed the new development.
The proposed development is on a 15 acre site off Manchester Road in Stocksbridge. It was brought forward following the announcement that Outokumpu is to relocate the company's Annealing Plant and slitting facilities to its factory at Meadowhall and consolidate its operations.
If given the go-ahead it would also give Corus the opportunity to look into investing in improving facilities on their main site and reconfiguring current operations within the Stocksbridge site.
The plans were redesigned earlier this year following feedback from consultation sessions with Council members, the public AND input from the Sheffield Urban Design Review Panel to reflect the existing architecture and retain the rich industrial heritage of the site.
Engineers have also worked closely with the Environment Agency to ensure flood prevention measures are designed into the scheme.
The scheme is aimed at incorporating high quality design with well thought out public realm works – creating public open spaces within the development, a formula which has won Dransfield Properties a number of high profile awards for the company's Marshall's Yard development which was built on a former factory site in Gainsborough.
Mark Dransfield, Managing Director of Dransfield Properties Ltd, said: "We have worked closely with local stakeholders and residents to deliver what we believe is a development which is not only in keeping with the industrial heritage of the site but will also bring new life to the town.
"Our design team have worked hard to come up with a scheme which reflects the architecture of the buildings which neighbour our proposed scheme. The feedback we received from our public consultation sessions has been extremely positive.
"We are confident that we can attract new companies and high quality retailers to this development and deliver a scheme which will really benefit the community.
"Talking to people through the consultation process its clear most people feel there is an urgent need to reverse the fortunes of Stocksbridge."
Dransfield Properties specialises in delivering urban regeneration schemes and has recently won four awards, including the BCSC Gold Award for the successful transformation of a former factory site in Gainsborough to a thriving retail and leisure centre.
For further information about Dransfield Properties visit the company's website at www.dransfield.co.uk
EDITORS NOTES
If the plans are approved deliveries servicing the new retail and office development will use the Stockbridge bypass service road. Visitors to the shopping centre will access via Manchester Road in Stocksbridge.
For further information, contact:-
Public Relations Department, Dransfield Properties Ltd
Tel: 01226 360644
Email: pr@dransfield.co.uk