First step in East Manchester Regeneration Scheme!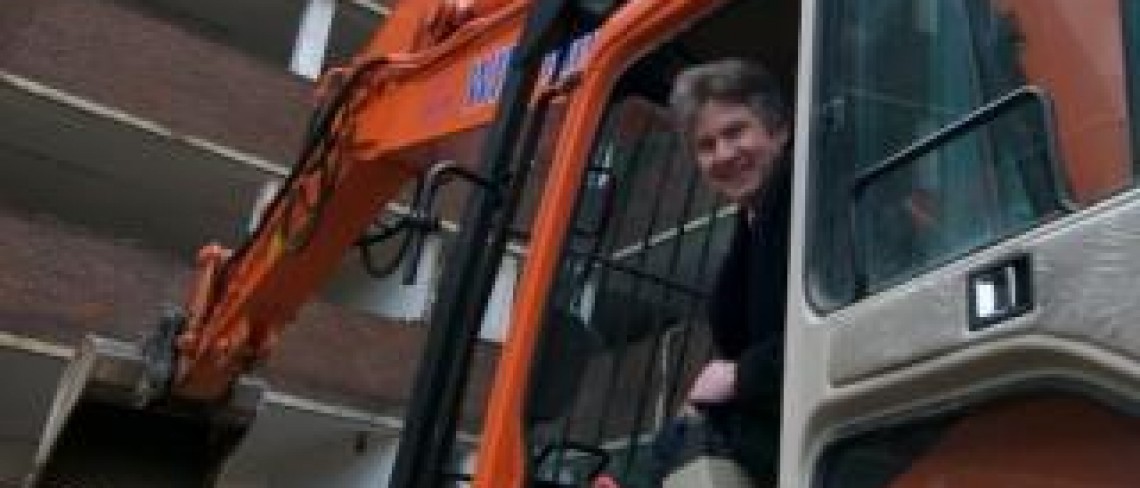 First step in East Manchester Regeneration Scheme!
Mar 2008
Demolition work gets underway today (Wednesday) marking the start of a major new £40 million regeneration scheme in East Manchester.
Denton based Windmill Demolition are starting work on the site on Ashton Old Road in Openshaw in preparation for the mixed used development that will eventually deliver a new shopping, leisure and commercial centre in the heart of Openshaw - creating around 700 new jobs in the area.
Demolition is starting on the former social security offices as well as a run down snooker club and bank, all fronting Ashton Old Road in Openshaw. The development is being brought forward by Barnsley based Dransfield Properties, working in partnership with Manchester City Council and the urban regeneration company New East Manchester.
Executive Member for The Environment and Local Councillor Neil Swannick, will be on hand to help mark the start of the ambitious new project.
The new development will include:
· A Morrisons supermarket covering 80,000 sq ft
· Ten new purpose built retail units
· 57,000 sq ft of office accommodation
· A café and restaurant
· A 670 space car park.
Cllr Swannick, said: "This is an important first step in this project and we are delighted to see work actually starting on site, we look forward to the completion of this development which is great news for the people of Openshaw and great news for the regeneration of the area."
Andrew Malley, Retail Property Director for Dransfield Properties said: "We are very excited to be starting on site in Openshaw. This is an important development in the regeneration of this part of East Manchester and it is great to see this first step in delivering this scheme."
The new district centre development is a key part of the regeneration of Openshaw which is aimed at doubling the population of the area in the next 10 to 15 years and attracting people back to the area.
Once the site has been cleared construction work is due to start early next year.
photocallphotocallphotocallphotocallphotocallphotocallphotocallphotocall
Time: 3pm
Date: Wednesday 26th March
Place: Former DSS building, Ashton Old Road, Manchester
Event: start of demolition work on the site of the new £40 million development on Ashton Old Road
Contact Amanda Holmes or Jackie Helliwell on 01226 360644
photocallphotocallphotocallphotocallphotocallphotocallphotocallphotocall
For further information, contact:-
Public Relations Department, Dransfield Properties Ltd
Tel: 01226 360644
Email: pr@dransfield.co.uk