Marshall's Yard opens to crowds of shoppers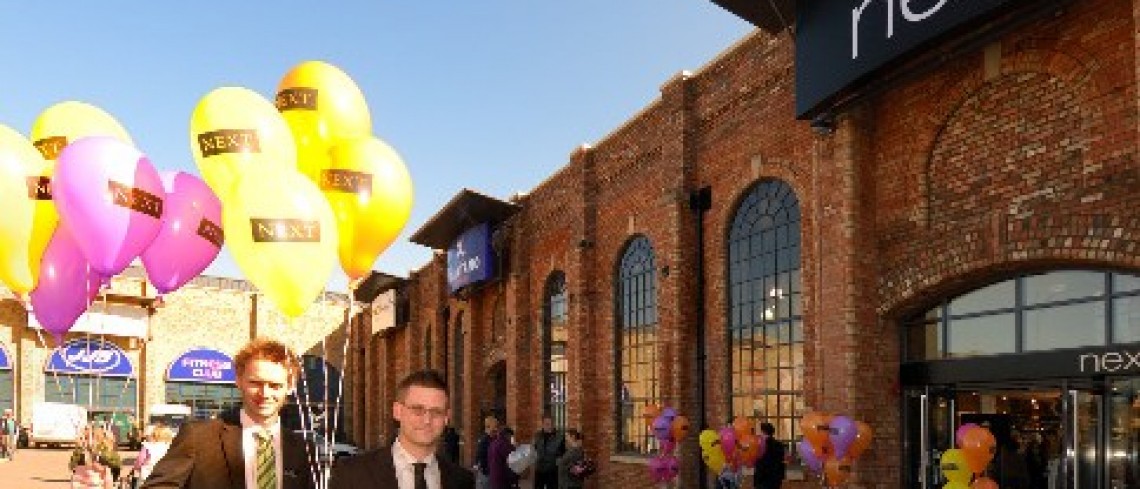 Marshall's Yard opens to crowds of shoppers
Apr 2007
Marshall's Yard, the long awaited Ł39 million shopping, commercial and leisure complex in Gainsborough, Lincolnshire, opened its first phase to the public on Friday 6 April with crowds of shoppers descending on leading retailers Next, Marks & Spencer, New Look, Allied Carpets, Brantano, Claire's Accessories, Halfords, The Works, and Timpson.
Located on a former engineering works, on the major route through the town, it has been designed to improve links with the existing town centre, and heralds the economic transformation of Gainsborough, set to attract visitors from miles around. With striking architecture and the innovative re-use of historic and listed buildings, the development has a unique character atypical of traditional shopping destinations.
Over the next few weeks, further retailers will open on the site - Birthdays, Carphone Warehouse, Holland and Barrett, Julian Graves, Ponden Mill, Greggs, Specsavers, and Costa Coffee, plus two local businesses Stringers Hairdressing and Stanley Hunt jewellers. A JJB leisure store, which incorporates health club and retail outlet will open in June, and Wilkinson will open in July.
Developed by the joint venture partnership of Dransfield Properties and Prospect Estates, Marshall's Yard is home to 225,000 sq ft of retail space with 334 free parking spaces,
More than just a shopping destination, Marshall's Yard will offer visitors a host of attractions with something for all the family. Extensive investment in public realm will deliver a central landscaped piazza with multi jet fountains, providing an attractive setting for visitors to sit and enjoy the surroundings, or dine al fresco at one of the two overlooking restaurants. Traditional horse and carriage rides will be available every weekend. The route through Gainsborough showcases the town's rich history (which dates back to the Pilgrim Fathers) and will encourage visitors to explore further afield than Marshall's Yard, and bring new visitors to the existing town centre.
The predicted benefits to the town are exceptional with expenditure in the town forecast to increase by a staggering 79 per cent, recapturing trade and providing a valuable boost to the local economy. Together with the new housing developments under way in the town it is forecast to increase the town's shopping catchment by 79 per cent, and move Gainsborough up 175 places in the national ranking of retail centres.
Over 2,000 people, many of them local, were employed during construction of the site, and when fully open more than 800 permanent jobs will have been created.
A mixed use development, Marshall's Yard also has 50,000 sq ft of commercial office space. The first speculative office space to be built in the town, 75 per cent has been pre let at the time of phase one opening, reinforcing the newfound commitment businesses have in the town and highlighting the need for this type of accommodation.
A competitive tendering process resulted in West Lindsey District Council selecting Marshall's Yard as the site of their new headquarters, which will bring all council services under one roof in a landmark building on the entrance to the centre.
Mark Dransfield, Director of Marshall's Yard, Ltd said: "This is a tremendous day, for both Marshall's Yard and for the wider Gainsborough community. It is certainly the biggest development we have been involved with and it is thanks to the support from local stakeholders that we have been able to overcome the many challenges presented by redeveloping a historic and listed site."
"The development will make a huge impact on Gainsborough and the surrounding area, and the tenant line up reflects the confidence in the town. All the retail units will be open within the next couple of months, putting Gainsborough firmly on the map as a quality retail destination."
For further information, contact:-
Public Relations Department, Dransfield Properties Ltd
Tel: 01226 360644
Email: pr@dransfield.co.uk