Restored rope crane back at Marshall's Yard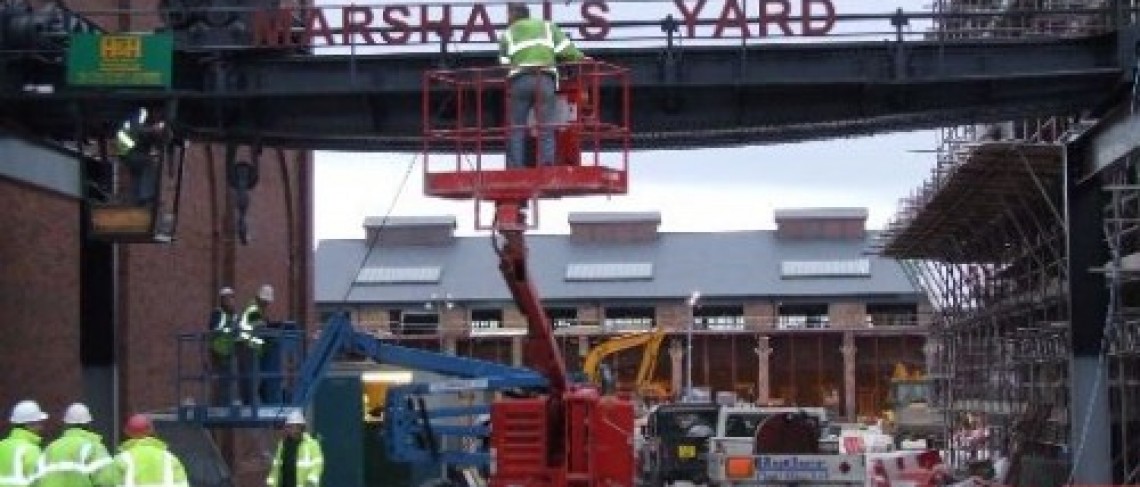 Restored rope crane back at Marshall's Yard
Mar 2007
The listed historic rope crane from Marshall's Engineering, which dates back almost 150 years, is back at its former home, following an extensive restoration programme which has brought it back to pristine condition.
It has been installed at the entrance to Marshall's Yard, ensuring all visitors to the site are reminded of the site's important industrial heritage. Called a fishbow crane because of its shape, the crane was used by Marshall's Engineering until the 1960s where it was used to move heavy castings around. It became surplus to requirements when the company moved the heat treatment plans to another part of the building and manufacturing processes changed.
At 26 tonnes, manoeuvring it into position on the Spring Gardens entrance to Marshall's Yard was not an easy task. It took two hours, a road closure, a dozen men and a 160 tonne crane to ease it into place!
Local reclamation specialists H and H carried out the work and their team of specialists worked on it for seven months.
Chris Hill, Proprietor of H and H said: "This has been a really enjoyable and rewarding job to do, and the crane looks fantastic now it is in place. We believe the crane was built some time between 1860 and 1880, and seeing it restored to its former glory is extremely rewarding."
Lindsay McLaren, PR Manager for Marshall's Yard said: "The crane provides a dramatic entrance to Marshall's Yard and, along with all the other preserved features, will ensure the site's history is remembered long into the future."
For further information, contact:-
Public Relations Department, Dransfield Properties Ltd
Tel: 01226 360644
Email: pr@dransfield.co.uk