Local art student's winning design is celebrated in Stroud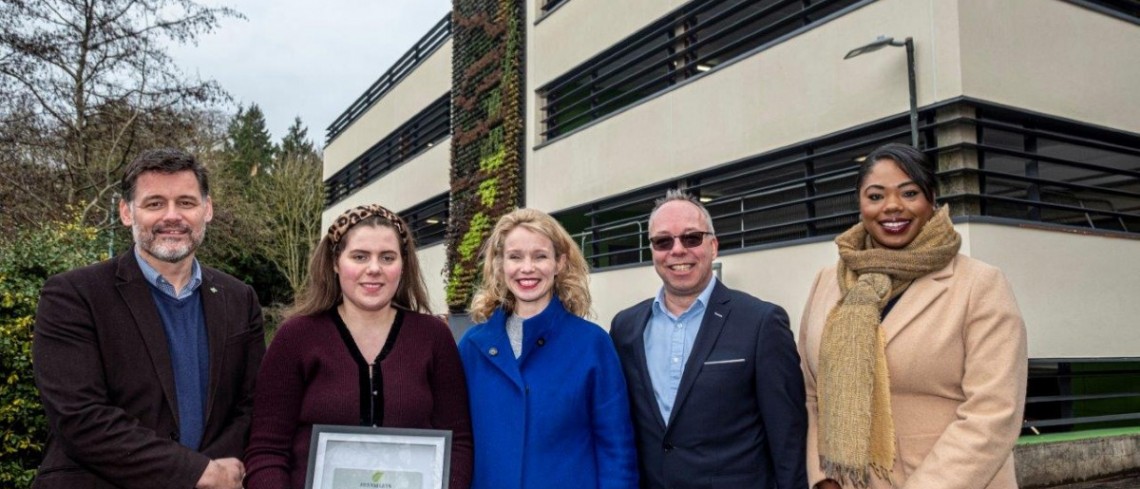 Local art student's winning design is celebrated in Stroud
Jan 2020
The team at Five Valleys Shopping Centre in Stroud have marked the unveiling of their new living wall sculpture today with the local student who helped design the feature.
The owners of Five Valleys, Dransfield Properties, launched the competition with Stroud College Art and Design students back in January 2019.
Francesca Smith was studying Art at Stroud College when she entered into the competition and was chosen by a panel of selected judges to have her design installed onto the side of the newly refurbished multi-story car park in the town centre.
The new 11-metre high living wall sculpture can be seen from the A46 Merrywalks Road and consists of a selection of different textured green and red plants. It has been installed as part of the centre's major transformation.
Francesca said: "My inspiration for the design came from the production of military uniforms in Stroud with the scarlet plants representing a strand of thread. My initial inspiration for the living wall, however, was in response to the current climate crisis and how ecosystems can still exist in urban environments.
"I have really enjoyed developing the designs with the team at Five Valleys and learning about the logistics of bringing the living wall to life. "
Managing Director of Dransfield Properties, Mark Dransfield said: "Francesca's design was chosen unanimously as our winning design which is a real tribute to the town and perfectly reflects the true sense of Stroud."
Siobhan Baillie, MP for Stroud said: "I am so pleased to be involved with the unveiling of this impressive living wall sculpture at Five Valleys. We are so lucky in Stroud to have incredible creative talent like Francesca and the Art school students. The sculpture is a wonderful addition to the town. "
The next phase of improvements at Five Valley's includes a stylish, indoor "Borough Market" style area, showcasing the region's best local producers and traders.
The Five Valleys project is headed by the retail property specialists Dransfield Properties Ltd and is part funded by GFirst LEP.
To keep up to date with development progress at Five Valleys please visit www.fivevalleysstroud.co.uk
For further information, contact:-
Public Relations Department, Dransfield Properties Ltd
Tel: 01226 360644
Email: pr@dransfield.co.uk