Minister Visits Sheffield's Fox Valley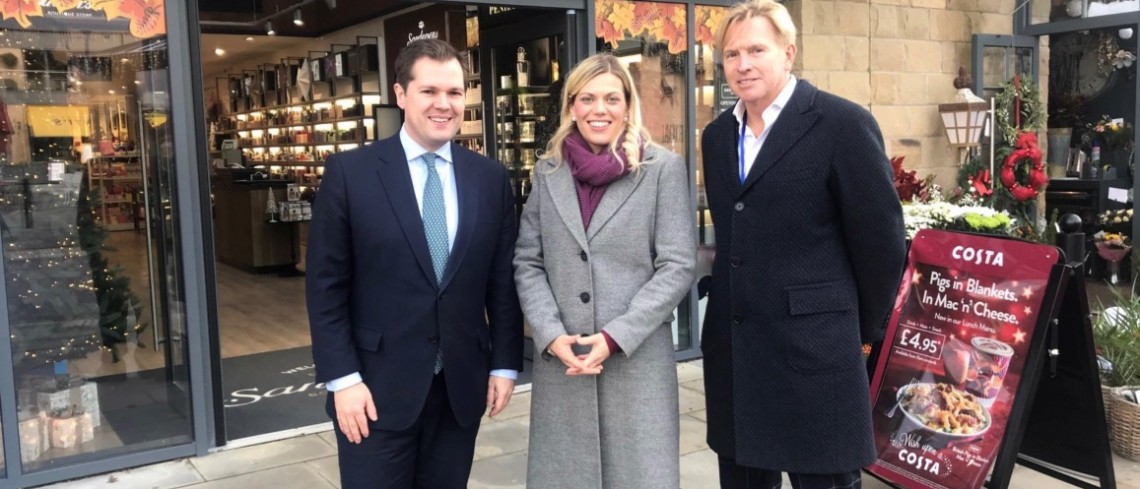 Minister Visits Sheffield's Fox Valley
Nov 2019
Robert Jenrick The Secretary of State for Housing, Communities and Local Government visited Stocksbridge in north Sheffield today - one of the areas set to benefit from the new Town's Fund with an investment of up to £25 million.

Mr Jenrick was joined by the Conservative Parliamentary Candidate for Penistone and Stocksbridge, Miriam Cates as well as Mark Dransfield - Managing Director of Dransfield Properties which owns the award-winning Fox Valley development.

Fox Valley opened in 2016 and the team behind the successful redevelopment of a former industrial site are now working with a group of local stakeholders to deliver the bid for the Town's Fund.

The investment in the area will continue the transformation of Stocksbridge into the Manchester Road area, which has suffered from a lack of investment in recent years.

The Minister spent more than an hour at Fox Valley and Stocksbridge as part of his visit to Yorkshire on Wednesday November 20th.
Mr Jenrick said: "I was delighted to visit Fox Valley and see what has been achieved already. Stocksbridge will benefit from £25m investment from the Governments £3.6 billion investment. I was pleased to see myself the transformational plan being developed for the Manchester road area as well as the proposal for bringing passenger rail services to the centre, both of which could be made a reality with the funding that will be provided. I look forward to working with Miriam Cates, Mark Dransfield and the local community on this."
Miriam Cates said: "I am very excited about what this £25m of funding means for Stocksbridge. Like many other Northern towns, Stocksbridge has been left behind in recent decades and has lost out to big cities. The Towns Fund changes all that, and this is our opportunity to restore our High Street, attract high skilled jobs to the area and sort out our transport infrastructure. If I'm elected on 12th December, I look forward to working hard with the community to make the most of this opportunity"

Mark Dransfield added: "We were delighted to be able show Mr Jenrick what has been achieved here at Fox Valley, both in terms of delivering a new town centre retail and office development and the new homes which have been completed as part of the development.

"The Towns Fund gives us the opportunity to work together and deliver real change to other parts of the town and it was great to have the opportunity to talk about that vision to the Minister."
For further information, contact:-
Public Relations Department, Dransfield Properties Ltd
Tel: 01226 360644
Email: pr@dransfield.co.uk