The Works Opens New Store at Market Cross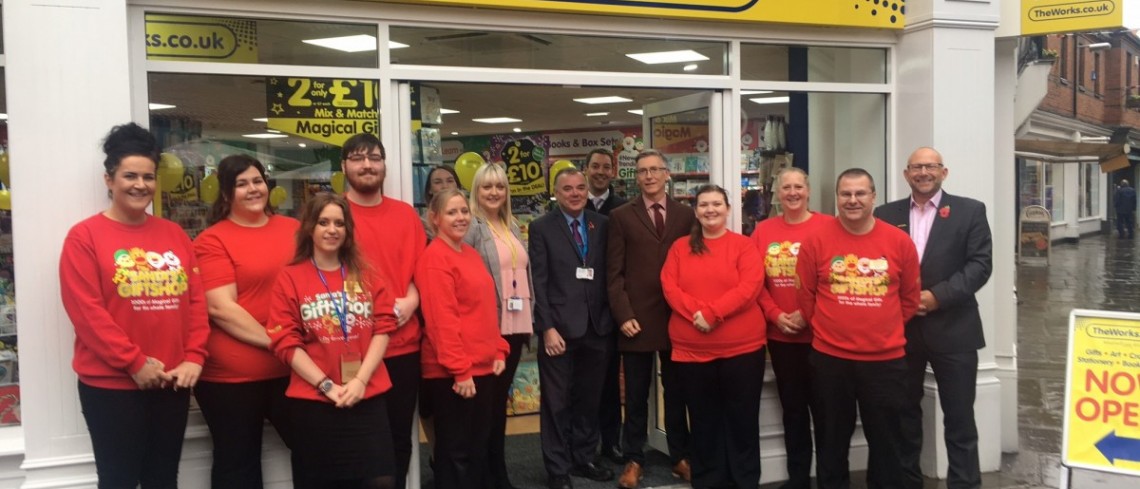 The Works Opens New Store at Market Cross
Nov 2019
The popular book and stationery retailer The Works has opened its doors to a brand new store at Market Cross in Selby today.
The new 2,798 sq. ft. store opened with a special ribbon cutting this morning (Friday 1st November) in the unit next door to Cooplands and J&B Flowers at the busy north Yorkshire shopping centre.
The Works sells a wide range of gifts as well as art and craft materials, books, toys, games and stationery and has more than five hundred stores across the UK and Ireland.
The new store has created around 6 new jobs in the area and has opened in time for the busy Christmas shopping period at Market Cross.
The Works serves more than 22.5 million customers each year – including families and people of all ages.
The new Market Cross store stocks a fantastic range of products at great prices, from education products to gift ideas. The company sells more than 40,000 different products every year, stocking a wide variety of goods at great prices.
Market Cross is owned and managed by the Sheffield based property company Dransfield Properties.
The company has just announced a major £450,000 investment programme at the centre to bring eight new one and two bedroomed apartments to Market Cross, as well as relocating the popular salon Hair Innovations.
Next week the centre will also be joined by another new retailer – The Greengrocer – which is due to open at Market Cross on Friday 8th November.
Estates Director at Dransfield Properties, James Shepherd, said: "The Works is a great retailer which we have had the pleasure of working with on a number of our centres and we are really pleased to see the new Market Cross store open and busy today."
"The new store looks great and is in a great location at the centre, it's a fantastic addition to our line up here in Selby at a busy and exciting time for Market Cross."
Cllr David Buckle, Lead Executive Member for Communities and Economic Development said: "The Council has made a significant commitment to helping our market town to reach its full potential I believe Selby Town Centre has a bright future.
"We work as a council closely with existing businesses and encourage great new businesses such as the Works, who we are delighted to see arrive in the town."
To keep up to date with news and events and news at Market Cross follow the centre's facebook page Market Cross Selby. And to find our more the great range at The Works go to www.theworks.co.uk
Picture shows The Works in store team, Cllr David Buckle (centre left), James Shepherd, Dransfield Properties Estates Director (centre), Cllr David Caulfield (centre right) and Nick Wood, Retail Operations Director at The Works.
For further information, contact:-
Public Relations Department, Dransfield Properties Ltd
Tel: 01226 360644
Email: pr@dransfield.co.uk