Superdrug Opens New Store in Gainsborough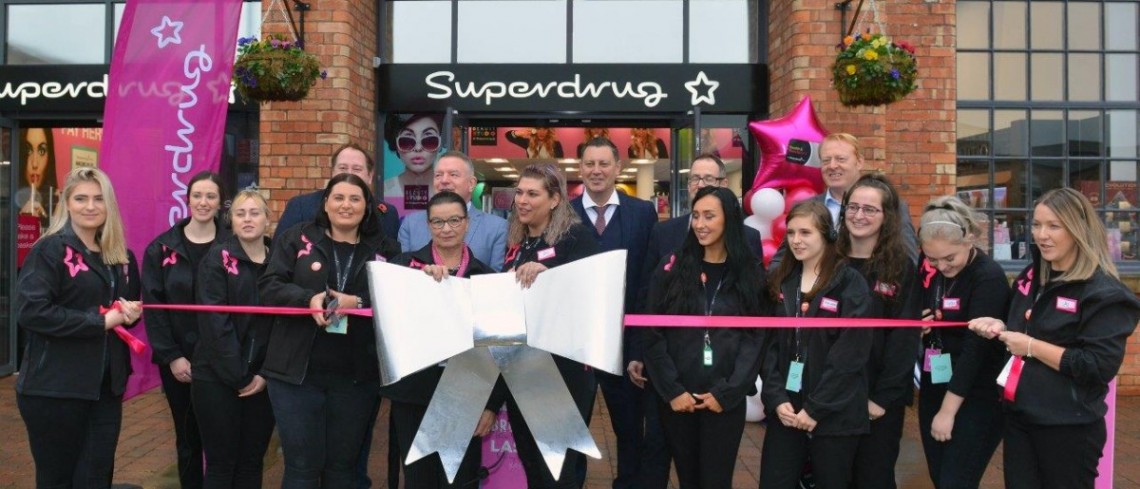 Superdrug Opens New Store in Gainsborough
Nov 2019
Gainsboroughís new Superdrug store was launched at Marshallís Yard today (Friday 1st November) Ė creating 15 new jobs and bringing a great range of health and beauty products, everyday toiletries and luxury fragrances.
Supedrug opened with a special ribbon cutting this morning Ė the store is in a 4,800 sq ft unit near New Look, Next and M&S at Marshallís Yard.
The store features a brand-new Beauty Studio offering a Brow & Lash Bar where customers will find a menu of professional treatments at affordable prices, including tinting and eyebrow shaping with no appointment necessary, and lashes applied for special occasions.
The new store also has a Nail Bar offering a file and polish from £12 and gel manicure from £20. Ear and nose piercing services are also coming soon to the store as part of the beauty services on offer.
As well as offering a selection of health and beauty products from best-loved brands the store has a wide selection of Superdrugís own brand products including beauty and toiletries products accredited by Cruelty Free International, vegan and vegetarian beauty essentials as well as essential healthcare products at great value prices.
Superdrug own brand products include best-selling favouriteís such as B. by Superdrug, skincare ranges including, Naturally Radiant, high tech skincare Optimum, to bath and body collections including Fruity and Vitamin E, suncare and bronzing from Solait.
Alongside this customers will be able to shop from a range of exclusive beauty and personal care brands including Revolution, MUA, Gosh, Nip + Fab, Fox Tan, U Tan, Tanologist, Australis, Sienna X, Astral, Skin Republic, Hair Revolution, Skin Revolution, Knight & Wilson, Trevor Sorbie, Body Fantasies, Beverly Hills and Bespoke.
Visitors will also have the chance to sign up to Health & Beautycard to be able to collect points to redeem on future purchases and also benefit from exclusive deals and offers. The Superdrug Mobile service will also be available to Health & Beautycard customers for just £10 offering no contract, unlimited calls and texts and a mighty 4GB of data every month.
Kim Garbutt, Gainsborough Store Manager, said; ďWe are delighted to be opening our new store to customers in Lincolnshire. The store is a great addition to the area and will offer a wide selection of our unique mix of beauty, health and fragrances which is great in the lead up to Christmas shopping.
ďThe addition of the Brow & Lash Bar and Nail Bar means we will be able to offer our customers a variety of top beauty treatments at affordable prices. We hope our customers love the new store.Ē
Superdrug has more than 900 stores across the UK stocking a great range of health and beauty products, the company employs more than 14,000 people.
Centre Manager for Marshall's Yard, Alison Hall, said: "We are delighted to welcome Superdrug to the centre, the new store looks great and is a fantastic addition to the line up here at the Yard."
The company's previous, smaller store in the market place is currently being re-branded as Savers and will open later in the month.
For further information, contact:-
Public Relations Department, Dransfield Properties Ltd
Tel: 01226 360644
Email: pr@dransfield.co.uk