Team Dransfield cyclists raise more than £60,000 for charity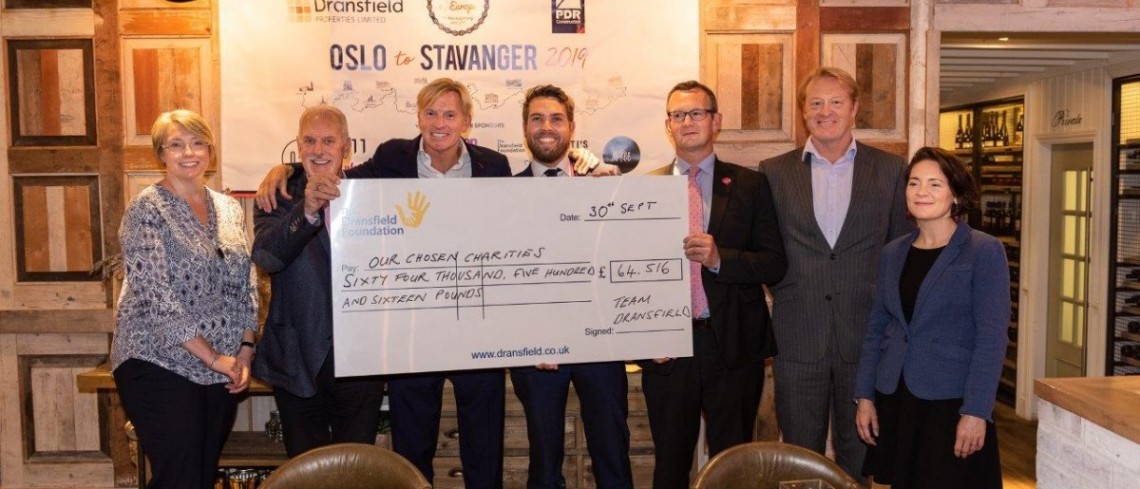 Team Dransfield cyclists raise more than £60,000 for charity
Oct 2019
A team of charity cyclists from South Yorkshire retail property company Dransfield Properties have raised an amazing £64,516 after completing their tough 300-mile challenge – facing climbs the equivalent of Mount Kilimanjaro.
The 12 strong team took on the challenge in July this year, riding across Norway from Oslo to Stavanger in the 12th leg of a journey which has covered 4,800 miles across 15 countries. Since 2007 the team have raised more than £500,000 for charity.
The annual ride is headed by Managing Director of Dransfield Properties, Mark Dransfield. This year was a particularly tough challenge as the team cycled in memory of Mark's wife Deborah Holmes who sadly died of cancer earlier this year.
The money raised in this year's ride has now been donated to Action Against Cancer, St Luke's Hospice and The Dransfield Foundation and was presented to the charities in a special cheque presentation held at Fox Valley this week.
Mark said: "The ride is always a massive personal challenge for us all, this year was incredibly tough with some really hard climbs – Debs was definitely the inspiration to keep us all going.
"The response to our fundraising has been incredible and I would like to say a huge thank you to everyone who donated, your generosity really is going to make a difference to the charities we're supporting."
Jack Kidder from St Luke's Hospice said: "Thank you to the incredible team of cyclists who took on the Tour De Europe this year and all of the support staff who helped them do it. All of us at St Luke's are truly inspired and grateful for their amazing support which will allow us to continue to provide our essential palliative care for adults and their loved ones in Sheffield".
"We could not be more grateful for this support, it will have a real impact in assisting us to deliver our essential care – thank you to all involved."
Charley Cranmer from Action Against Cancer added: "Each year we are overwhelmed by the dedication and hard work of the Team Dransfield cyclists and their commitment to completing the gruelling rides and fundraising so successfully. We are enormously grateful for every penny raised in support of our life-saving cancer research and would like to take this opportunity to thank the cyclists, the behind the scenes team that makes it all possible, and to the donors that give so generously."
Over the years the charity cyclists have covered punishing routes travelling through Paris, Lyon, Marseille, Portofino, Rome, Dubrovnik, Trieste, Munich, Berlin, Copenhagen, Oslo and this year's route which finished in Stavanger. The riders aim to be back in London - where the challenge started – by 2021.
Next year's route will take the cyclists from Aberdeen to Newcastle, the final leg covering a route from Newcastle to London in 2021.
This year's riders were: Mark Dransfield, Andrew Malley, Simon Bland, Paul Dransfield, Lee Newsham, Steve Wilson, Peter Swift, Johnathan Branton, Philip Prince, Richard Marshall, Robert Neale, Mark Yardley. Support drivers: John White and Paul Anderson.
For more information about the charity bike ride and Dransfield Properties visit www.dransfield.co.uk
For further information, contact:-
Public Relations Department, Dransfield Properties Ltd
Tel: 01226 360644
Email: pr@dransfield.co.uk