Umbrella installation pops up at Market Cross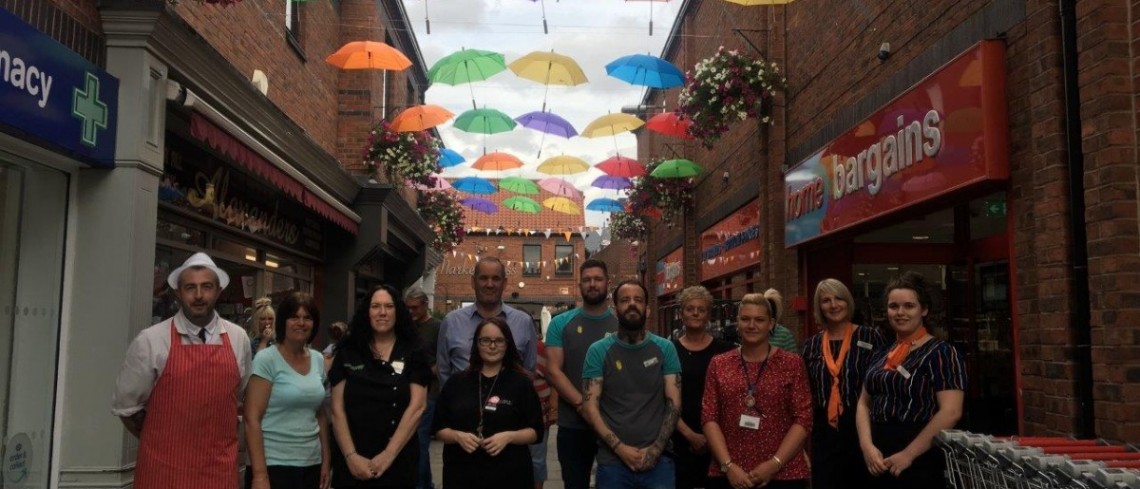 Umbrella installation pops up at Market Cross
Aug 2019
A splash of summer colour has popped up this week at Selbyís Market Cross Shopping Centre with the installation of a colourful display of umbrellas.
In a nod to the summer showers weíve been experiencing across the region the Market Cross team have created the striking display above one of the walkways with dozens of brightly coloured umbrellas.
The display was installed overnight and will stay in place for the next few weeks to create a colourful talking point at the town centre shopping centre.
Market Cross is owned and managed by Yorkshire based Dransfield Properties Ltd, the company is based in Sheffield and has a portfolio of shopping centres across the country.
Alison Shipperbottom from the Market Cross management team said: ďThese lovely displays are something we have done at our other centres and it always creates a really nice talking point.
ďWe thought that a bright and colourful nod to the mixed august weather weíve been having this month would make an appropriate display which our shoppers would really enjoy.Ē
Market Cross is home to a number of great independent and national retailers including Vodaphone, Home Bargains, Savers, Costa Coffee and The Hub Cafť.
The centre management team are currently working on a great line up of events for the autumn, including a Halloween event and the centreís Christmas Lights.
For further information, contact:-
Public Relations Department, Dransfield Properties Ltd
Tel: 01226 360644
Email: pr@dransfield.co.uk