Award-winning pizza on the menu at re-branded Gloucestershire shopping centre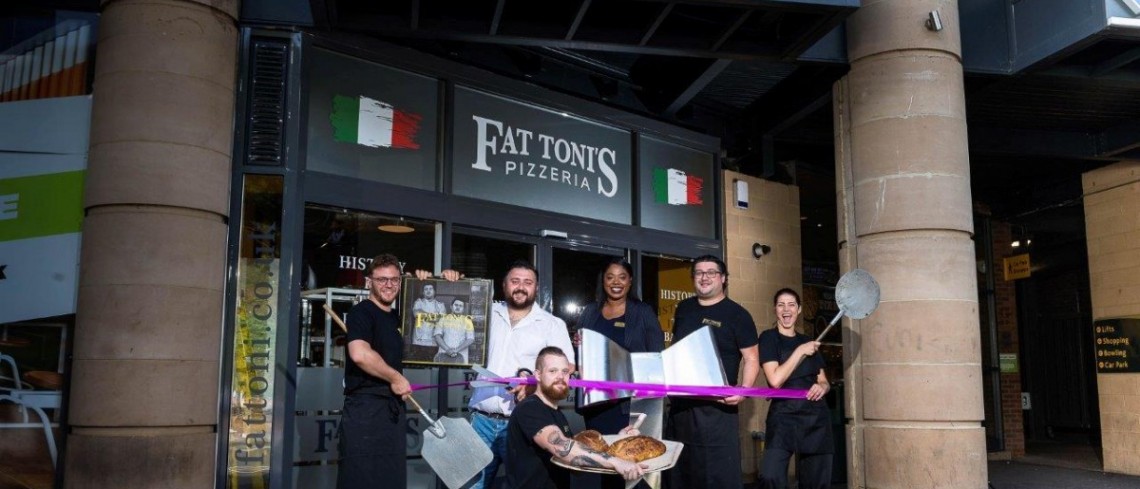 Award-winning pizza on the menu at re-branded Gloucestershire shopping centre
Jul 2019
Award-winning pizza is available again in the centre of Stroud after Fat Toni's relaunched their new outlet in the Five Valleys Shopping Centre.
The independent pizza takeaway company have moved unto the 1,314square foot unit near to the entrance of The Vue Cinema at the centre.
The new location gives the popular eatery more space to grow and expand - the Fat Toni's team are now offering a range of delicious breads as well as Pizza al Taglio Roman Style.
Homemade brownies will be returning to the menu and the Fat Toni's brand has been given a fantastic makeover its new location.
The Yorkshire-based retail property specialist Dransfield Properties Ltd, which owns Five Valleys, is currently working on the transformation of the centre.
Formerly known as Merrywalks, the latest phase of the transformation started earlier this month with improvements to the car park and main mall area.
Fat Toni's is the first local company to announce a move to Five Valleys and centre manager Dionne Moore is looking forward to welcoming a host of other new businesses.
She said: "We are delighted that Fat Toni's is the first new local company to join our line up here at Five Valleys.
"Fat Toni's is a great local company and we are looking forward to making further announcements as the transformation of Five Valleys continues."
Darren Orsi, from Fat Toni's, said: "We are really pleased to be expanding our offer here in Stroud from our new location at Five Valleys.
"We already have a great customer following in the town and we are looking forward to growing that, and being part of the new look Five Valleys shopping centre in the heart of the town."
Fat Toni's opened in Stroud in 2012 in a small unit in Gloucester Street and last year retained its title for Gloucestershire Lifestyle Awards Takeaway Of The Year Award.
For further information, contact:-
Public Relations Department, Dransfield Properties Ltd
Tel: 01226 360644
Email: pr@dransfield.co.uk