Work Begins at Major New Residential and Retail Development in Newham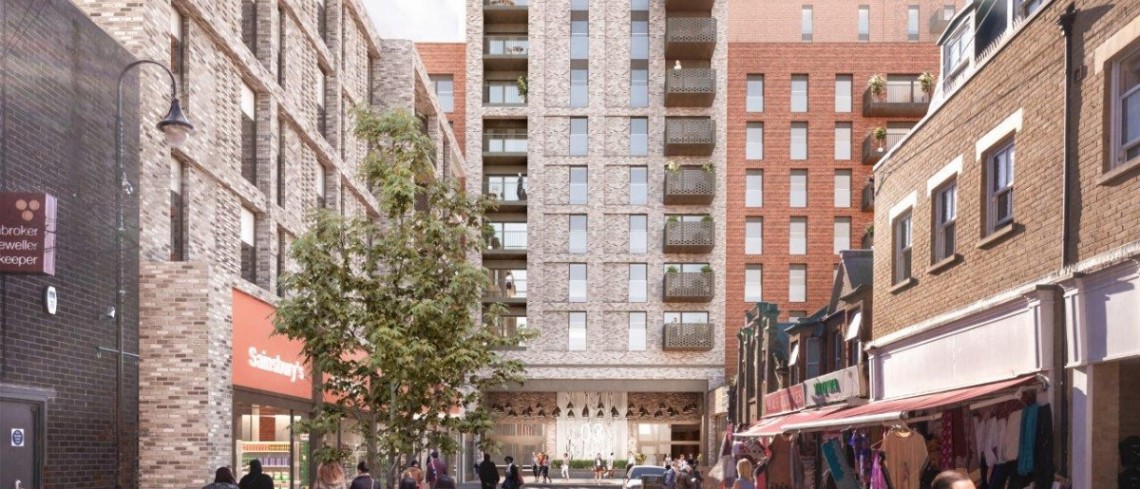 Work Begins at Major New Residential and Retail Development in Newham
May 2019
Work has started at a new mixed-use residential and retail scheme in East Ham, in the London Borough of Newham.
Planning permission for the site, which is being developed by Barratt London and East Ham Regeneration Ltd (a joint venture between Dransfield Properties and Land Management) was granted at the end of last year and demolition is now underway for the 1.9-acre site previously occupied by the East Ham Market Hall.
Located in the centre of East Ham, a seven-minute walk from East Ham underground station, the new development will provide 277 new studio, one, two and three-bedroom homes, including 78 affordable homes, as well as 21,500 sq. ft. of new and refurbished retail space.
The development, which has been designed by RMA Architects, will also create new public spaces, as well as landscaped courtyards and private roof gardens for residents.
This is the first major project for Yorkshire based Dransfield Properties in the capital, working with the East Ham Market Hall owners Land Management as well as Barratt London.
Barratt London Regional Land and Development Director, Matt Calladine, said: "We are delighted to be starting on site with the redevelopment of East Ham Market Hall in the London Borough of Newham.
"Following extensive consultation with local residents and stakeholders, we are confident that the New Market Hall scheme will be of great benefit to the wider community – offering much-needed new homes, including a significant affordable provision, as well as a a brand new retail mall for the area."
East Ham Regeneration Ltd is a joint venture between the Market Hall owners Land Management and the award-winning Yorkshire-based property firm Dransfield Properties. The company will work on the new retail mall once the residential development has been completed.
Managing Director of Dransfield Properties, Mark Dransfield said: "This is our first major development in London and we are pleased to be working with Land Management and Barratt London on a project which will deliver real change to this part of East Ham – answering the need for affordable new homes as well as an attractive new retail destination for the local community."
William Sunnucks Chairman of Land Management Ltd, said: "The East Ham Shopping Hall has served the community for 95 years. When my grandfather opened it in 1922 many of the traders were soldiers rebuilding their lives after the First World War. Since then we have provided homes for small businesses from every background."
A comprehensive rebuild is now essential and I am proud that the site can provide 277 flats as well as an up-to-date shopping facility for East Ham."
Barratt London and East Ham Regeneration Ltd have worked together with Newham Council, the GLA and residents throughout the design process. The scheme's anticipated completion date is late 2021.
For further information, contact:-
Public Relations Department, Dransfield Properties Ltd
Tel: 01226 360644
Email: pr@dransfield.co.uk