Water wall feature is switched on in Gainsborough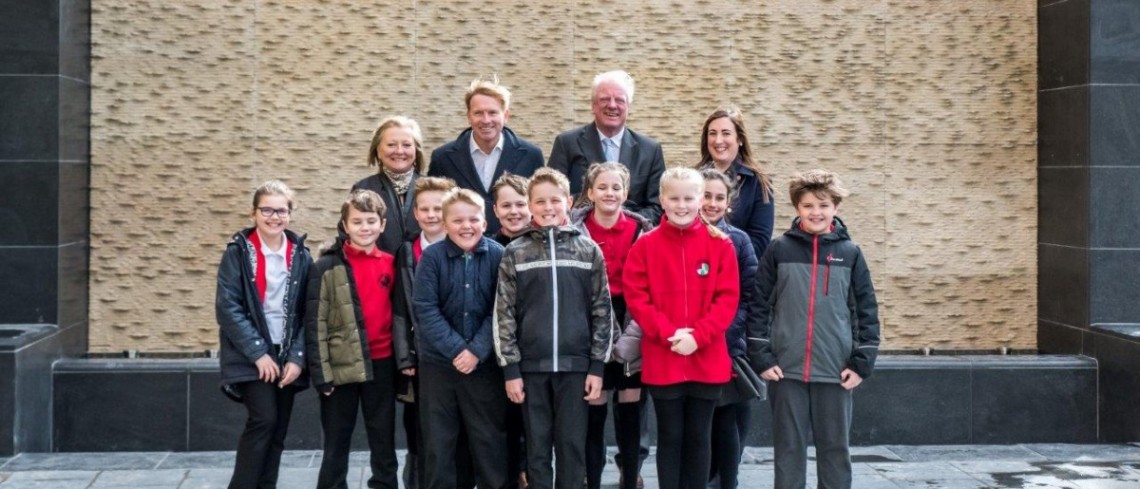 Water wall feature is switched on in Gainsborough
Mar 2019
A stunning new water wall feature by the entrance to Gainsborough's new town centre hotel has been officially switched on by the MP Sir Edward Leigh, helped by pupils from the Parish Church Primary School.
The water feature is inspired by a similar water wall at Paley Park in New York and has been placed in the outdoor seating area of the ground floor restaurant, created as part of the new Travelodge development. The bespoke feature is made of York stone and granite.
The 56 room Gainsborough Travelodge hotel opened last November and major improvements to the Roseways car park have also been made as part of the project, creating a fabulous new gateway to the town centre.
Dransfield Properties and West Lindsey District Council are working in partnership to transform this part of the town which also involves refurbishing run down shops in the area and creating a new Independent Quarter along Market Street.
Mr Leigh was given a tour of the new Market Street development work and the hotel before performing the official switch on of the water feature.
Mark Dransfield, Managing Director of Dransfield Properties, said: "We are really pleased with the transformation of this part of Gainsborough and it is fantastic to see the hotel open and trading well in its first few months.
"We will be announcing details of the restaurant occupier later in the spring – the water feature creates a fantastic focal point for an outdoor seating area."
Sir Edward Leigh MP said: "I am extremely impressed to see the work that has been achieved with the new hotel as well as the refurbished shop units and first floor apartments on Market Street. It is a great example of working in partnership to deliver town centre regeneration."
Picture shows: Eve Fawcett-Moralee Executive Director for Commercial and Economic Growth at West Lindsey District Council, Mark Dransfield, Managing Director at Dransfield Properties Ltd, Sir Edward Leigh MP and pupils from Gainsborough Parish Church of England Primary School.
For further information, contact:-
Public Relations Department, Dransfield Properties Ltd
Tel: 01226 360644
Email: pr@dransfield.co.uk