Winning name announced for new Waverley Local Centre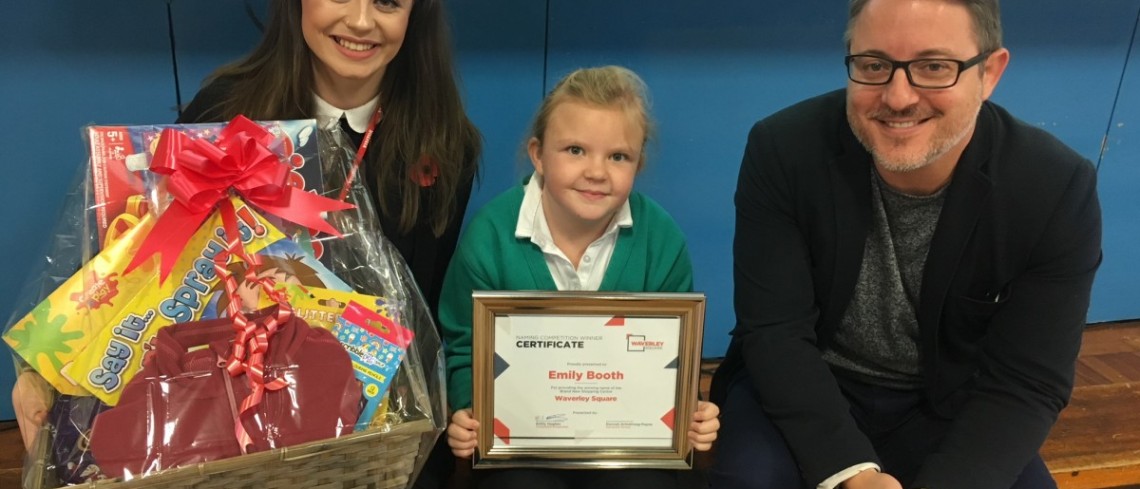 Winning name announced for new Waverley Local Centre
Nov 2018
The winner has been announced in a competition launched with young people across South Yorkshire to name a brand-new retail and leisure development being built on their doorstep.

Youngsters from primary schools across the Borough were challenged to put on their thinking caps and delve in to the history books in a bid to find a name for the new Waverley local centre, a development being brought forward in a joint venture between Harworth Group plc and Dransfield Properties Ltd that will sit adjacent to both the Waverley new community and the Advanced Manufacturing Park close to Junction 33 of the M1.

Eight-year-old Emily Booth of St Athelstan Primary School, Sheffield was presented with the winning prize on behalf of both companies during a school assembly last week. Joined by her Grandmother, Emily said she was proud to have chosen the winning name "Waverley Square" and excited to visit the centre when it is completed. Emily will now also be invited to join the company as their special guest when the centre is officially opened in two years' time.

The winner was chosen by a panel of judges following the submission of over fifty entries, all of which varied in both imagination and creativity.

Duncan Armstrong-Payne, Associate Director of Major Projects at Harworth Group plc, said: We are thrilled for Emily and really pleased to see such a fantastic response from schoolchildren putting forward their suggested names for new the centre. The enthusiasm and excitement for the scheme really became apparent during the assembly at St Athelstan when the pupils were eager to ask questions and find out more."

The Waverley local centre will deliver a new £50million retail, leisure and office scheme, delivering over 190,000 sq. ft. of mixed-use space and creating up to 1,000 new jobs. The centre will link the internationally renowned Advanced Manufacturing Park, home to major employers including Rolls Royce and McLaren Automotive, and Waverley's growing residential community, where 850 homes have been built and occupied over the past six years.
Dransfield Properties Ltd and Harworth Group Plc announced the joint venture agreement to deliver the development last year.They have worked with South Yorkshire architects Dixon Dawson on a stunning design which will bring new community facilities as well as restaurants and retail space to this thriving area. Development is expected to take around eighteen months to reach full build out, with construction work due to begin in the spring of 2019.

The team at Dransfield Properties pride themselves on the company's strong community ethos and are committed to working in partnership with local stakeholders to deliver successful developments.
Communications Director, Amanda Holmes said: "We were looking for a name which had a clear identity and one which was also able to reflect the history of the area. We have received some very imaginative entries but the name Waverley Square was certainly a clear favourite with our judges. We are looking forward to working closely with the community as the project work starts to get underway".

Picture shows: Emily Hughes, PR Executive of Dransfield Properties, Emily Booth and Duncan Armstrong-Payne of Harworth Group plc
For further information, contact:-
Public Relations Department, Dransfield Properties Ltd
Tel: 01226 360644
Email: pr@dransfield.co.uk