Whizz-Kidz visit Fox Valley for accessibility audit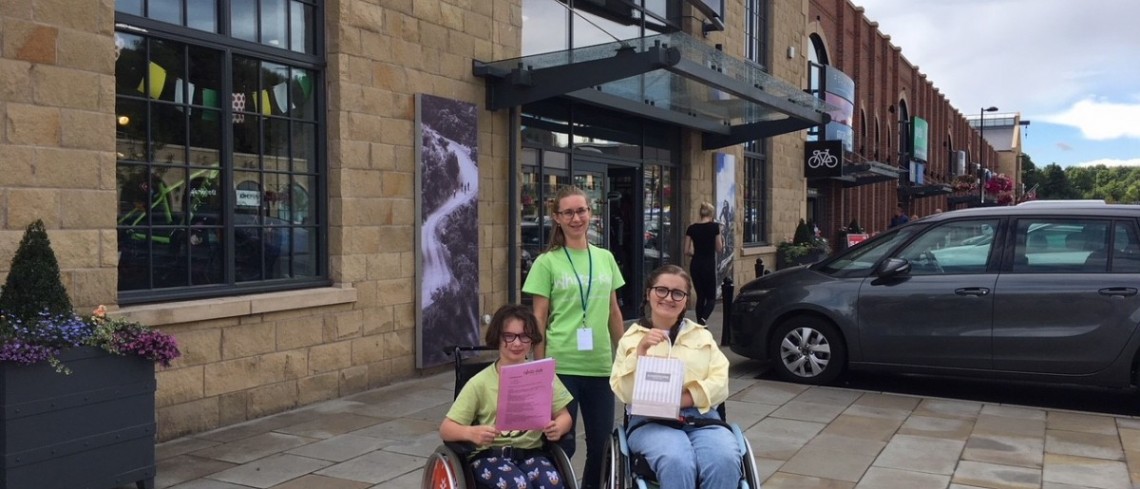 Whizz-Kidz visit Fox Valley for accessibility audit
Aug 2018
Ambassadors from the young wheelchair users charity Whizz-Kidz have visited Fox Valley in north Sheffield to help the centre team look at accessibly issues.
Chloe aged 11 And Penny aged 15 gave the centre a thorough audit - looking at every aspect of accessibility over a day long visit. The young ambassadors focussed on everything from public toilets to parking, dropped kerbs and the positioning of retail displays as well as the helpfulness of the staff.
The visit was organised by the centre management team working with the Whizz-Kidz charity, the organisation aims to transform the lives of disabled children by providing the equipment, support and life skills they need.
Fox Valley is owned and managed by Dransfield Properties and has been open since June 2016. Since the centre opened the management team have introduced a number of initiatives including free wheelchair and electric scooter hire.
Operations director at Dransfield Properties Medi Parry-Williams said: "Fox Valley is quite a new centre and obviously built to the latest regulations in terms of accessibility but we really wanted to hear from wheelchair users about how they feel as visitors to the centre and what improvements we can make.
"It's important to us that we create a welcoming environment for all our customers and the ambassadors were very complimentary about Fox Valley, and have made some great suggestions for us and for some of the stores which are aimed at making the visitor experience even better.
"We'd like to thank Penny and Chloe for working with us on this and for their great ideas and feedback."
Penny, Whizz-Kidz Ambassador said "I really enjoyed looking around the Fox Valley centre and assessing how accessible it is. It's important to make sure the built environment is accessible for disabled people because, when I was younger, I was reluctant and anxious about leaving my house due to concerns about inaccessibility. It is vital that others don't feel like I did.
"Everyone at Fox Valley was friendly and receptive to my ideas when I pointed things out that can be improved."

About Whizz-Kidz
• Whizz-Kidz provides disabled children and young people with vital mobility equipment, opportunities to meet and have fun, and training to help them gain skills and look forward to a brighter future.

• Whizz-Kidz has changed the lives of over 20,000 disabled children since 1990 - often literally overnight. There are thousands of children in the UK who need the right equipment to fit their young lives.

• The right wheelchair and mobility equipment is not automatically provided on the NHS. Whizz-Kidz aims to work where possible with local NHS services, and aims to ensure that much-needed improvements are made in delivering wheelchair services for children in the UK.

For further information, contact:-
Public Relations Department, Dransfield Properties Ltd
Tel: 01226 360644
Email: pr@dransfield.co.uk