Yorkshire property firm buys Stroud's Merrywalks Centre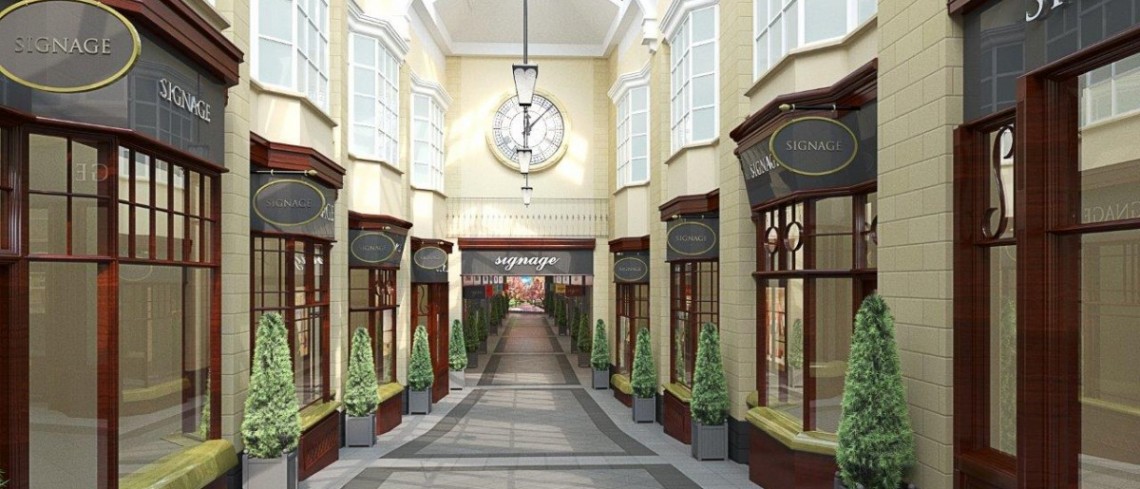 Yorkshire property firm buys Stroud's Merrywalks Centre
Jun 2018
The award winning property company Dransfield Properties Ltd has bought Merrywalks Shopping Centre in Stroud and announced plans to transform the run down and outdated centre.
The company has purchased Merrywalks for £10 million from the previous owners Streetlands.
A planning application will be submitted in the next two weeks and a phased programme of investment and improvements in excess of £12 million will get underway later in the summer.
Based in Sheffield, South Yorkshire, Dransfield Properties was founded 26 years ago and has a track record of turning around the fortunes of struggling town centres and retail destinations – the company specialises in the market town sector.
Dransfield Properties is working with Lloyds Bank Commercial Banking on the Merrywalks project. The bank is providing £12m in funding split across a £6 million investment loan to support the acquisition and a £6 million refurbishment loan to deliver the centre's transformation.
Lloyds Bank provided the funding for Dransfield's Sanderson Arcade development which involved the transformation of a run down and failing shopping centre. The centre relaunched in November 2009 and over the last nine years has grown to become one of the north east's premium shopping locations with an impressive tenant line up including Next, Mint Velvet, Hobbs, JoJo Maman Bebe and M&S.
Tom Cross, Relationship Director for Lloyds Bank Commercial Real Estate, said: "Dransfield has a proven track record of transforming centres like Merrywalks into thriving retail and leisure destinations, supporting underserved communities with new amenities.
"We're proud to have been a partner to Dransfield since 1999, supporting its most important acquisitions, transformations and ground-up development work. Together, we've helped to deliver lasting regeneration."
GFirst Lep is also providing a £1 million loan and a £3 million grant for the town centre project which will elevate the town's retail standing and attract a host of new businesses to Stroud.
The centre's outdated multi story car park will be the first part of the Merrywalks Shopping Centre to benefit from the planned improvements and work will start on the internal mall area after Christmas.
A new Edwardian style entrance will also be created from King Street and other changes include new high quality office and residential accommodation as well as new and refurbished retail, restaurant and coffee shop units and improvements to the gym and bowling alley. The centre is also home to Stroud's Vue Cinema.
A transformed Merrywalks will attract a host of new retailers to the town who are keen to have a presence in Stroud – Dransfield Properties is also keen to engage with local independent businesses to ensure the tenant mix reflects the area.
The company's in house management team GVFM will manage the asset and Merrywalks will be run to the same high standard as Dransfield's other centres which include Fox Valley in north Sheffield, Marshall's Yard in Gainsborough as well as Sanderson Arcade.
Managing Director of Dransfield Properties, Mark Dransfield said: "We are delighted to be bringing Merrywalks into our property portfolio and to be working with Lloyds Banking Group and GFirst Lep on the centre's transformation.
"Merrywalks has suffered from a serious lack of investment in recent years. This is a great opportunity for us to reverse the centre's fortunes and attract restaurants and retailers which we know would love to have a presence here in Stroud but can see that the centre needs some major improvements.
"We know from our work in other town's that strong architecture and good links with the rest of the town are key to successful town centre developments.
"Pro-active management is also hugely important to a centre's success and we pride ourselves on well managed centres and on our engagement with the local communities in which we work."
Dr Diane Savory OBE, Chair GFirst LEP, said: "Merrywalks shopping centre is right at the heart of the beautiful market town, Stroud. This investment will massively improve the shopping experience for local residents, creating a well-linked and attractive centre and bring an exciting new retail offer to the town."
To find out more about Dransfield Properties visit www.dransfield.co.uk
For more information about Lloyds Bank:
Ricky Ambury
Citypress
ricky.ambury@citypress.co.uk
M: +44 (0) 7540 047833
About Lloyds Bank Commercial Banking:

Lloyds Bank Commercial Banking provides comprehensive expert financial services to businesses of all sizes, from start-ups, through to small businesses, mid-sized businesses and multinational corporations. These corporate clients range from privately-owned firms to FTSE 100 PLCs, multinational corporations and financial institutions.

Maintaining a network of relationship teams across the UK, as well as internationally, Lloyds Bank Commercial Banking delivers the mix of local understanding and global expertise necessary to provide long-term support and advice to its clients.

Lloyds Bank Commercial Banking offers a broad range of finance beyond just term lending and this spans import and export trade finance, structured and asset finance, securitisation facilities and capital market funding. Its product specialists provide bespoke financial services and solutions including tailored cash management, international trade, treasury and risk management services.

Its heritage means it has an unrivalled understanding of business needs and a proven track record of supporting businesses across the sectors and regions. Taking a relationship approach, it provides support to its clients throughout the economic cycle.

Lloyds Bank has been voted Bank of the Year for an unprecedented ten consecutive years at the FDs' Excellence Awards in association with ICAEW and supported by the CBI & Real Business.

For more information please visit http://www.lloydsbank-commercialbanking.com/
For further information, contact:-
Public Relations Department, Dransfield Properties Ltd
Tel: 01226 360644
Email: pr@dransfield.co.uk