Boots UK Get Ready to Unveil its Brand New Health and Beauty Destination at Fox Valley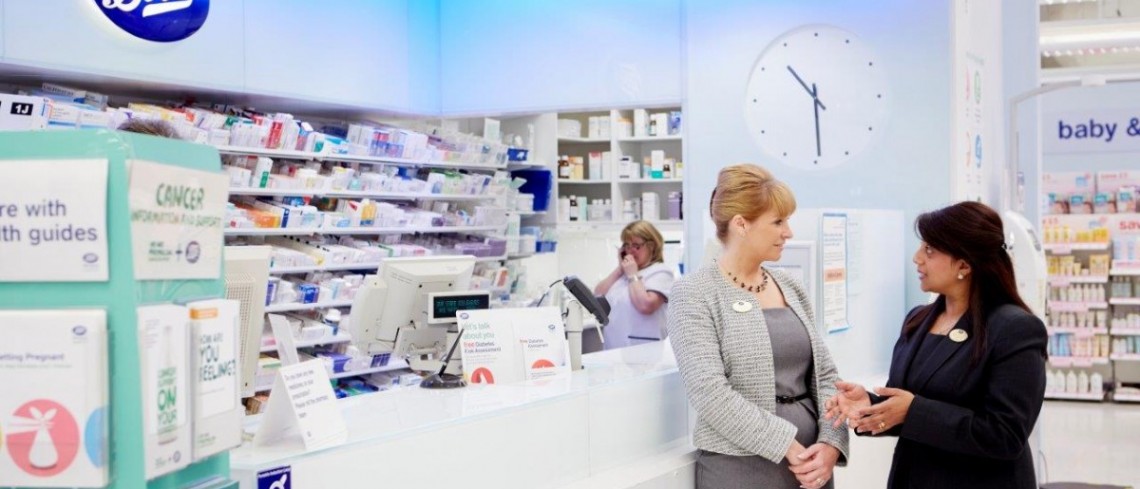 Boots UK Get Ready to Unveil its Brand New Health and Beauty Destination at Fox Valley
Mar 2018
In an exciting time for the regeneration of North Sheffield, the Boots UK team are delighted to open their brand new health and beauty store for local communities this week.
With a real focus on helping customers to feel good, the store will bring exclusive beauty brands and convenient healthcare solutions to the new town centre, where the Boots team will be on hand to support the people of Stocksbridge and North Sheffield with all their health and beauty needs.
Becky Womack, Store Manager, Boots UK, said "We understand that our customers and patients really value having affordable and accessible healthcare close by. All year round, our healthcare colleagues will be there to support customers with health and wellbeing advice at a time that is convenient to them. We're thrilled to help families feel more in control of their health and provide additional care for local communities."
The new store will also offer customers exclusive beauty brands, including a wide range of self-selection products from Soap&Glory, Sleek MakeUp and No7, the UK's leading skincare brand, as well as premium fragrances and electrical beauty goods. The new store will also create roles for six new employees in the area, reaffirming Boots commitment to the people and regeneration of North Sheffield.
The new store is the latest and final addition to the Fox Valley town centre shopping destination, which celebrates its second birthday this June. Estates Director at Dransfield Properties James Shepherd, said: "We wish Boots a very successful opening and welcome to its new location here at Fox Valley. They are an excellent addition to the town centre and the store will further enhance the existing retail line up. We are delighted that Boots will be part of the new retail and commercial heart created here at Fox Valley."
Becky Womack, added: "At Boots UK we have nearly 40 years of healthcare and beauty experience here in North Sheffield. We are delighted to expand our store offering to Fox Valley and look forward to helping our customers feel good for many years to come."
The store opens Monday – Saturday 8am - 6pm, and Sunday 10:30am – 4:30pm.

ENDS
• At the new new c.6,000 sq. ft. store customers will have access to a modern beauty space with self-selection branded cosmetics including Sleek MakeUP, Essie, Max Factor, L'Oreal, Revlon, Collection, BarryM, Rimmel, Maybelline and Bourjois. It will also offer beauty and luxury bathing products that are only available at Boots UK, such as Soap & Glory and Boots own brands such as No7.
• At the new store, customers will have access to a dedicated healthcare area that brings together a great range of healthcare products, including the exclusive Boots Pharmaceuticals range, as well as a consultation room where customers will be able to seek advice from a healthcare colleague in a privet setting.
• In addition, customers will be able to access to the entire Boots product range, through the Boots Order & Collect service*.

*Place an order online or in store before 8pm, for free collection in store after 12pm the next day, exclusions apply. The service is available Monday-Saturday in over 2,300 stores, excluding the Scottish Highlands/Islands, Jersey/Guernsey and Northern Ireland Stores. See the store locator on boots.com for your local store opening hours. See boots.com for details.
For more information, please contact Rachel Jackson from the Boots UK Press Office on 0207 980 8526, or rachel.jackson@wba.com.
About Boots UK
Boots UK (boots.com), the UK's leading pharmacy-led health and beauty retailer, is part of the Retail Pharmacy International Division of Walgreens Boots Alliance, Inc. (Nasdaq: WBA), the first global pharmacy-led, health and wellbeing enterprise.
With 2,486* Boots stores in the UK, its purpose is to champion everyone's right to feel good, and it is committed to providing exceptional customer and patient care, be the first choice for pharmacy and healthcare and offer innovative 'only at Boots' exclusive products such as the UK's leading skincare brand No7. Created over 165 years ago, the Boots brand is still at the heart of the communities it serves.
*As of 31 August 2017, excluding equity method investments
About Fox Valley
Fox Valley is a master planned redevelopment of a 28 acre former steelworks site, bringing a new town centre to North Sheffield. The £50million development, delivered by South Yorkshire based Dransfield Properties Ltd, has been carefully designed to reflect the area's rich industrial heritage as well as answering the need for a new retail and commercial heart in this growing catchment. As well as new office and retail space, there is a new housing development bringing 118 new executive riverside homes to the area.
For more information about Fox Valley visit www.foxvalleysheffield.co.uk
For further information, contact:-
Public Relations Department, Dransfield Properties Ltd
Tel: 01226 360644
Email: pr@dransfield.co.uk