Arcade display pays tribute to Suffragettes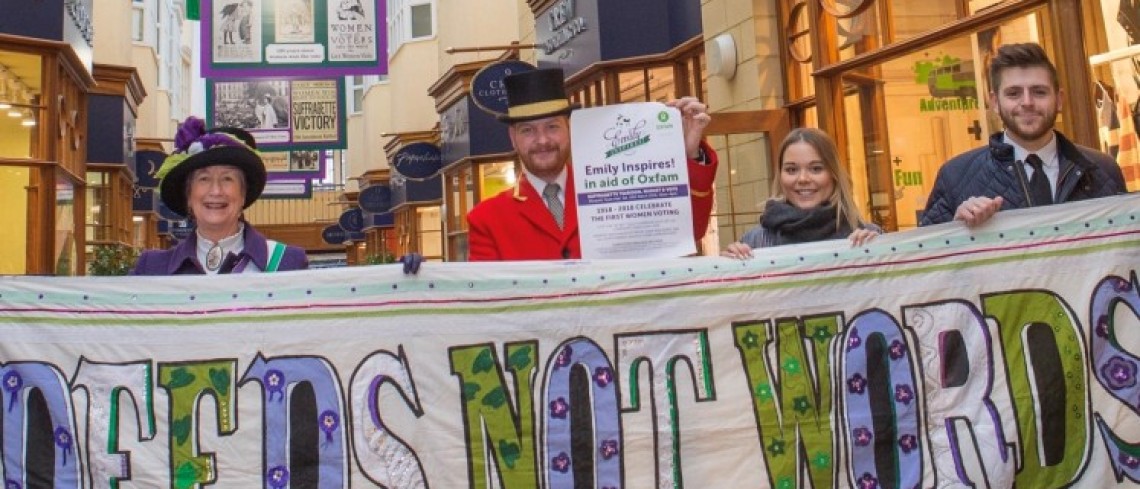 Arcade display pays tribute to Suffragettes
Feb 2018
The team at Sanderson Arcade in Morpeth are marking the centenary of voting rights for women this month with a special Suffragette themed display along the centre's Edwardian style gallery.
The gallery has been dressed in the Suffragette colours of white, green and purple and images featuring some of the women involved in the struggle for voting rights have also been displayed.
Emmeline Pankhurst and Annie Kenney are featured as well as Christabel Pankhurst and Morpeth's own famous daughter, Emily Wilding Davison who dedicated her life to the cause and died after stepping in front of the King's horse Anmer at the Epson Derby in June 1913.
The display also shows newspaper articles and posters from that era and will be in place at The Arcade through to International Women's Day on March 8th.
Three years ago Sanderson Arcade named one of the buildings at the centre Davison House in memory of the town's famous Suffragette daughter and a special display chronicling the campaign for voting rights can also be found there.
Assistant centre manager at Sanderson Arcade, Lottie Thompson, said: "We are very proud of Morpeth's role in the history of the Suffragette movement and delighted to be able to pay tribute to some of these amazing women with our special display here at the Arcade.
"We hope our customers will enjoy it and also take time to see the display of memorabilia at Davison House."
The gallery display has been created with the help of Penni Blythe from Emily Inspires. A special Suffragette themed tearoom and market is planned for March 10th at Morpeth Town Hall from 10am – 4pm as part of the centenary celebrations.
Photo shows: Left to right: Penni Blythe with Ray Robinson, Lottie Thompson and Joel Plumley from the Sanderson Arcade team.

For further information, contact:-
Public Relations Department, Dransfield Properties Ltd
Tel: 01226 360644
Email: pr@dransfield.co.uk