Property firm supports Mohicanís Runnerís Charity Challenge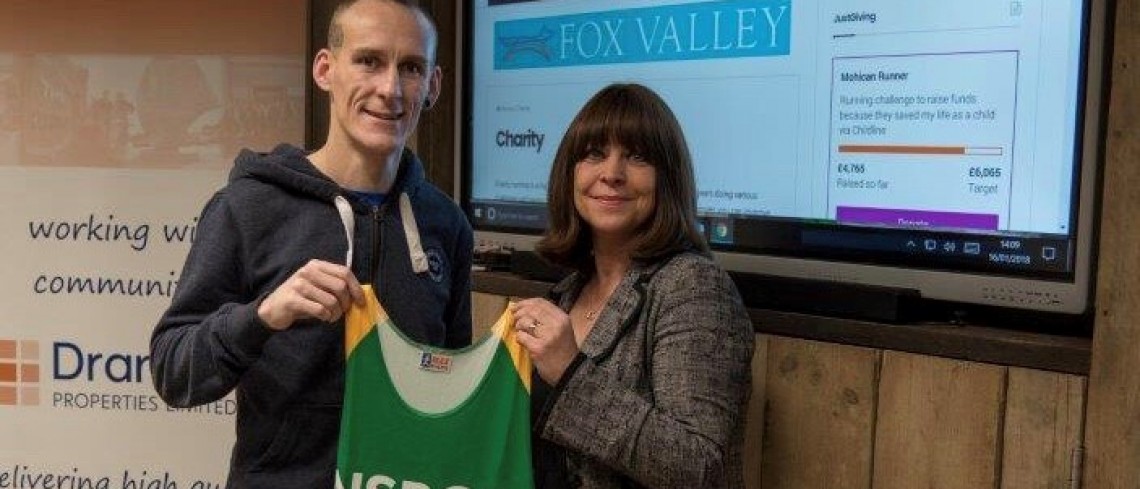 Property firm supports Mohicanís Runnerís Charity Challenge
Jan 2018
North Sheffield runner Richard Hayes Ė known as the Mohican Runner Ė is setting himself a tough challenge during 2018 and the team at Dransfield Properties are helping him to get out of the starting blocks.
Richard, from Stocksbridge, aged 36, is a Northern Masters athlete and no stranger to pushing himself to the limit.
Over the next 12 months he will be taking part in 18 separate tough running challenges across the UK Ė completing 12 10k runs and six half marathons with the aim of raising funds for the NSPCCís Childline.
Heíll be setting out to run each 10k race in under 37 minutes and each half marathon in under 80 minutes.
He is being supported in his 2018 challenge by the team from Dransfield Properties who are sponsoring his fundraising push to ensure he can cover the cost of his races as well as his running gear.
Dransfield Properties own and manage Fox Valley in Stocksbridge where Richard is a regular visitor on his daily training runs around the hills of his hometown.
Richard has completed two previous challenges for the NSPCC after the charity supported him through Childline when he was a teenager.
His first race of the year will be the East Midlands 10k on February 25th and over the next 12 months heíll be heading to towns and cities right across the UK including Leeds, Liverpool,
York, Hull and Manchester.
Heíll also take part in the Run for All in Sheffield in September and the Great North Run in Newcastle the same month.
Richard, whoís unconventional hairstyle gained him the nickname at race meetings of The Mohican Runner, said: ďIt is going to be a tough challenge but I am determined to achieve it and make sure I stay fit and well over the next twelve months.
ďI am really focussed on achieving the best possible times at each race and raising as much money as possible for a charity that helped me and does so much to help children and young people.
ďI am over the moon to have the support of the Dransfield team on this journey and Iíll certainly be doing my best to put my home town on the map throughout the challenge.Ē
Communications Director at Dransfield Properties, Amanda Holmes, said: ďRichard is certainly hard to miss and incredibly focussed on his challenge and everyone on our team is really proud to be supporting him during 2018.
ďWeíre hoping to join him on one of his 10k runs later in the year and will be following his progress with great interest as he racks up the miles over the next 12 months.Ē
To follow Richard on his fundraising mission visit http://mohicanrunner.uk and to find out more about Dransfield Properties visit www.dransfield.co.uk
For further information, contact:-
Public Relations Department, Dransfield Properties Ltd
Tel: 01226 360644
Email: pr@dransfield.co.uk