Plans submitted to transform a key site in East Ham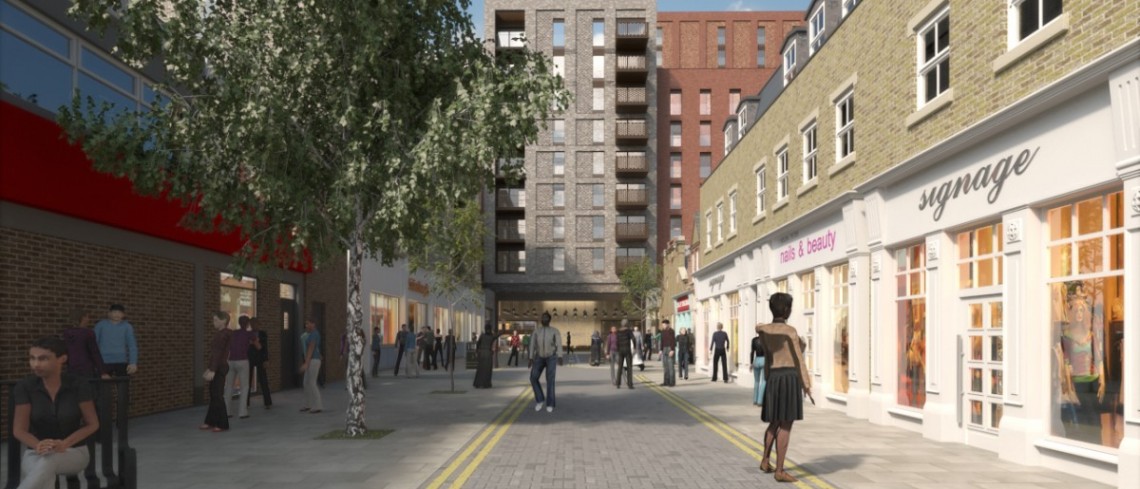 Plans submitted to transform a key site in East Ham
Nov 2017
Plans have been submitted for the transformation of a key site in East Ham, east London, to deliver a striking new retail, leisure and residential development.
The team from the Yorkshire based retail developers Dransfield Properties have formed a joint venture partnership with the site owners Land Management (East Ham Regeneration Limited). They're working with Barratt London on the new development which will regenerate the 1.9 acre Market Hall site in East Ham – creating new jobs as well as new homes in the area.
The development site is bounded by Ron Leighton Way, Pilgrims Way and St John's Road in East Ham with a pedestrian access off Myrtle Way.
The award winning London architects RMA have created a striking design which includes new public spaces linking to the high street as well as landscaped courtyards and roof gardens – the plans will transform a currently run down and under-utilised site into a vibrant development which is in the heart of the community.
A striking new indoor retail arcade with a water wall entrance feature accessed from Myrtle Road will be delivered as part of the scheme bringing new shops and restaurants to this part of east London.
The plans have now been submitted to Newham Council and include:

• 277 flats and duplexes.
• 35% affordable housing.
• The redevelopment of the Market Hall with 21,500 sq. ft. of retail and restaurant space.
• New areas of public space, a landscaped courtyard and roof gardens as well as the relocation of the existing local authority car park.
The site is a few minutes walk from East Ham Underground station in Zone 3 and 4 which serves the District line or Hammersmith & City – it is also a 15-minute bus ride to Stratford for the Central line, Overground, Jubilee, National & International Rail.
East Ham is in the London Borough of Newham, an area that has seen significant building activity around the Olympic Park and the Royal Docks. However less work has been done in the densely populated centre of the borough, and this development is positioned to strengthen East Ham town centre.
At present the site is predominantly occupied by a market hall, which has been owned and operated by Land Management for the last 90 years. Over recent years it has seen a decline in both shoppers and traders and the company has been looking for the right partner to work with them on a new development for the site.
Managing director of Dransfield Properties, Mark Dransfield, said: "This is our first major London development and we are delighted to be working with a great team of professionals on a scheme which will deliver real change in this part of east London.
"We have been working with Newham Council for three years to ensure a quality scheme is delivered which will set the standards for future development in the area. Our plans represent an opportunity to not only transform the site with some really striking architecture but to create new public spaces, amenities and of course much needed new homes."
William Sunnucks Chairman of Land Management Ltd, said: "The existing market hall has served its customers well for many years, but it is sadly unsustainable in its present form. We are delighted to be working with excellent partners on a bright new future for the site which will have a hugely positive impact on this part of East Ham town centre."
To view the digital walkthrough of the new development visit www.dransfield.co.uk

For further information, contact:-
Public Relations Department, Dransfield Properties Ltd
Tel: 01226 360644
Email: pr@dransfield.co.uk