Bra gjort! Team Dransfield – charity cyclists complete epic Copenhagen to Oslo challenge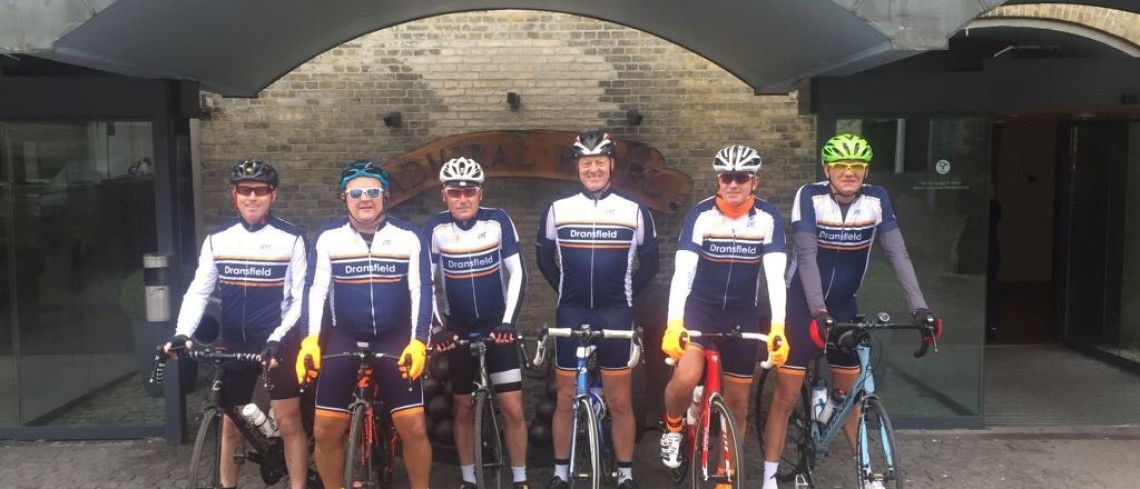 Bra gjort! Team Dransfield – charity cyclists complete epic Copenhagen to Oslo challenge
Sep 2017
A team of hardy cyclists from the South Yorkshire company Dransfield Properties Ltd have cycled through rain storms and mountainous climbs to complete the toughest leg ever of their Tour of Europe charity challenge last week.
The six strong team set off on Monday September 4th from Copenhagen and have braved tough conditions through Denmark, Sweden and Norway before arriving in Oslo on Friday September 8th to complete the challenge.
It is the 10th anniversary of the marathon fundraising effort which started back in 2007 with a ride from London to Paris.
Since that first ride the team have raised well over £436,000 for charity and they have covered more than 4,100 miles, cycling through thirteen European countries.
Over the years they've covered punishing routes travelling through Paris, Lyon, Marseille, Portofino, Rome, Dubrovnik, Trieste, Munich, Berlin, Copenhagen – and this year's route which finished in Oslo. They aim to be back in London - where the challenge started – by 2020.
Dransfield Properties is the company behind the award winning Sheffield shopping centre Fox Valley.
Managing Director and charity ride founder, Mark Dransfield, said: "It has been a really tough ride this year – we've had dreadful rain storms through the week and the climbs have been really challenging.
"It really has been a huge personal challenge for everyone involved and this year's route through Denmark, Sweden and Norway was incredibly hard.
"We are really grateful to everyone who has supported us over the years – that support keeps us going every single year and every single penny we raise goes direct to the charities and causes which we fundraise for."
The team is supporting Action Against Cancer and The Dransfield Foundation – a Trust established to support local causes and community projects and initiatives. One of the charities the foundation will be supporting this year is the Stocksbridge Community Leisure Centre.
This year's riders are: Mark Dransfield, Andrew Malley, Simon Bland, Tim Downing, Paul Dransfield, Steve Wilson, Peter Swift and Paul Sutherland. Support drivers: Rob Newman and Paul Anderson.
Pictures show: The 2017 Team Dransfield riders.
To arrange an interview please contact Amanda Holmes on 07747 621902. You can also follow on the team on Facebook and Twitter @TeamDransfield.
And to sponsor the team follow the link here
About the Tour of Europe Bike Ride
2007 – London to Paris
17 riders, 200 miles, £54,000 raised for Cystic Fibrosis Trust, British Heart Foundation, Leukaemia Research and Sheffield Children's Hospital.
2008 – Paris to Lyon
12 riders, 285 miles, £37,000 raised for Sheffield Children's Hospital and LLR (Bloodwise)
2009 – Lyon to Marseilles
16 riders, 265 miles, £40,000 raised for LLR
2010 –Marseilles to Portofino
19 riders, 326 miles, £50,000 to support The Children's Foundation, The Children's Hospital Charity and LLR
2011 - Portofino to Rome
15 riders, 360 days, £45,000 raised for the NSPCC, Leukaemia and Lymphoma Research and The Children's Hospital Charity.
2012 – Rome to Dubrovnik
12 riders, 32o miles, £30,000 for the Ryegate Hydrotherapy pool Project and for Leukaemia and Lymphoma Research.
2013 –Dubrovnik to Trieste
16 riders, 420 miles, £30,000 raised for Leukaemia and Lymphoma Research and St Andrew's Hospice in Grimsby.
2014 –Trieste to Munich
19 riders, 380 miles, raised £50,000 for Action Against Cancer and Leukaemia and Lymphoma Research as well as local causes and groups through the Dransfield Foundation.
2015 – Munich to Berlin
15 riders, 430 miles, £50,000 raised for Action Against Cancer, Lymphoma and Leukaemia Research and the Dransfield Foundation.
2016 - Berlin to Copenhagen -
13 riders, 400 miles, £50,000 raised for Bloodwise (formerly LLR), Action Against Cancer and The Dransfield Foundation as well as CRY. Raised £50,000.

For further information, contact:-
Public Relations Department, Dransfield Properties Ltd
Tel: 01226 360644
Email: pr@dransfield.co.uk