Joint Venture Company will be catalyst for further investment!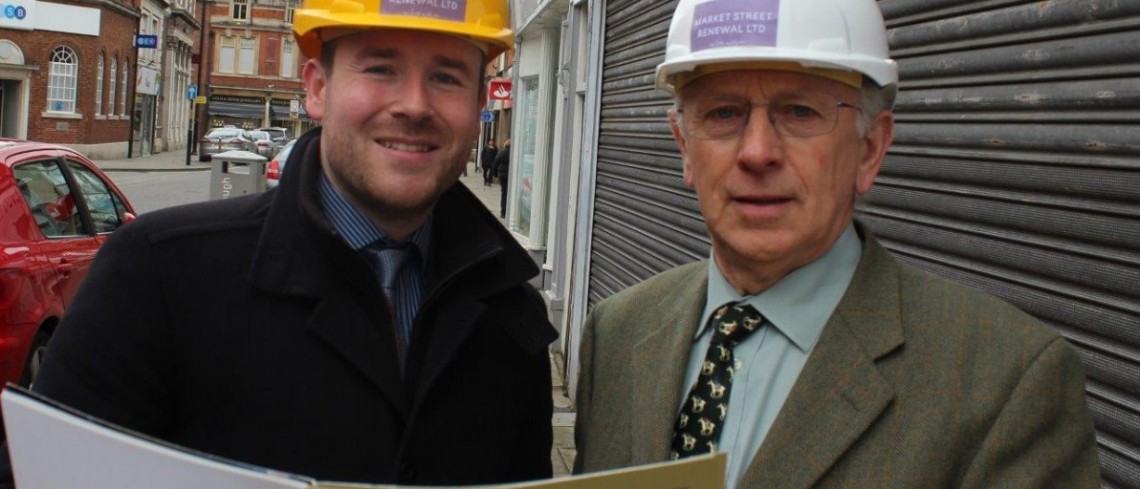 Joint Venture Company will be catalyst for further investment!
Feb 2017
West Lindsey District Council and Dransfield Properties Ltd have embarked upon an exciting initiative to create a Joint Venture Company, which will help regenerate Gainsborough town centre
The news comes just weeks after Dransfield Properties Ltd, submitted a planning application for a 56 bedroom hotel, on the site of the former Sun Inn, Gainsborough.
They are looking to bring Travel Lodge and Ponti Italian Kitchen restaurant into the town and create an open courtyard and outside dining area.
The project will involve refurbishing the shop fronts to a high standard as well as upgrading the internal space. It is expected to see at least four shops refurbished and let in Gainsborough town center over the next 12-18 months.
This is the first time the local authority has entered into an agreement of this kind but it is confident it has chosen the right partner.
Leader of West Lindsey District Council, Cllr Jeff Summers said: "Dransfield Properties has already invested heavily in Gainsborough with the hugely successful Marshall's Yard and they are now investing further with plans for a hotel chain and restaurant.
"We want to support investors and to do that we need to start to strengthen the appeal of the town ourselves. That is why I am delighted that we have agreed to this interesting and innovative approach of creating a Joint Venture Company. Together with council and private investment and our combined experience, I believe we can make real visual improvements to the regeneration of Gainsborough."
The Joint Venture agreement will focus on Market Street, Market Place, Church Street and North Street, creating a gateway to the town.
The Council's new economic and commercial director, Eve Fawcett Moralee is leading the way with the exciting plans.
She said: "The council is committed to developing the right partnerships to deliver a future for the town by making it attractive and sustainable for existing businesses and attract new investors. Our role in these projects are key but without partnership working we would not be able to achieve this alone.
"The Joint Venture Company will enable us to invest in shop units which will enhance the quality of the streetscape and attract people to let them.
"But we have a whole host of other projects running alongside this as part of our Invest Gainsborough work, which will complement this."
Mark Dransfield, Managing Director of Dransfield Properties, said: "Our company prides itself on the strong partnerships we form in the towns in which we work. We are delighted therefore to be partnering WLDC on the regeneration of this part of the town centre and to share the vision for this site.
"This is an important part of Gainsborough town centre and working together I'm confident we can deliver an attractive and sustainable development which will create new jobs and attract more companies to invest in the town."
Picture shows Cllr Jeff Summers with Dave Hale from Dransfield Properties.
• The council is also exploring options to upgrade the Roseway Car Park and public realm on North Street to ensure the environment around the hotel is benefitting to a tourist facility.
• A heritage masterplan for the town
• The Gainsborough Growth Fund which aims to support the growth of businesses in the town and provide new jobs in the area.
• The Gainsborough Growth Fund Retail Scheme is a pilot scheme which has been rolled out to attract independent retailers. £50,000 has been earmarked to help with costs of physical works to premises.
• Seeking a Development Partner to assist in the delivery of the wider regeneration programme for Gainsborough via a Competitive Dialogue procurement process.
This follows the successful INVEST Gainsborough launch in July.
To find out more about Invest Gainsborough visit: www.investgainsborough.com
For more information about the funds visit: www.west-lindsey.gov.uk/my-business/gainsborough-growth-fund/
ENDS
For further information, contact:-
Public Relations Department, Dransfield Properties Ltd
Tel: 01226 360644
Email: pr@dransfield.co.uk