Land art competition launched to celebrate 100 days to the Tour de Yorkshire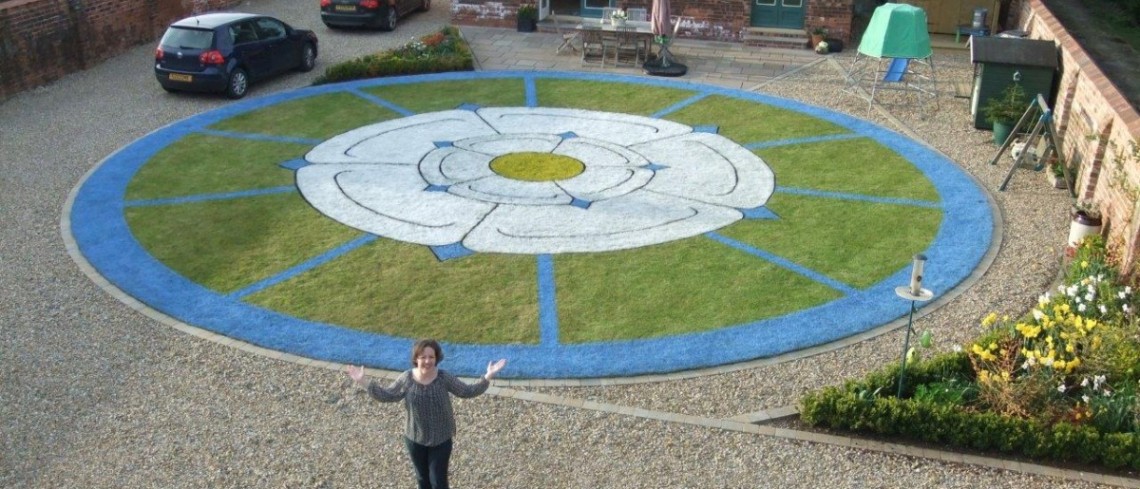 Land art competition launched to celebrate 100 days to the Tour de Yorkshire
Jan 2017
To celebrate 100 days to go until the start of the 2017 Tour de Yorkshire, which finishes at Fox Valley on April 30th, Welcome to Yorkshire has launched its annual land art competition and is now on the hunt for the county's best installations.
Last year's competition proved a huge success with massive, eye-catching pieces being displayed right along the race route, and businesses, landowners, farmers, schools and community groups are all being encouraged to get creative once again.
Whether it's a church spire draped in a blue jersey, a field housing a mammoth bicycle, or a market square spelling out messages of support, all works are welcomed and stand a great chance of being beamed to over 11 million people in 178 countries when the race's live television helicopters sweep across the county.
Last year a giant piece of art featuring a horse, ram and wild boar riding a penny farthing on Sutton Bank - commissioned by the North York Moors National Park Authority and Hambleton District Council - was crowned the winner after an international public vote, and the coveted trophy is now up for grabs once again.
Sir Gary Verity, Chief Executive of Welcome to Yorkshire, said: "Yorkshire's land art has attracted a lot of attention in the past, with people creating everything from multi-coloured sheep and spotty houses, to huge murals and striking street art.
"These fantastic pieces really bring the race to life and give you the chance to celebrate your community. We want you to shout to the world about what Yorkshire has to offer."
How to enter:
1. Send in plans, pictures and designs, and include information about what inspired the piece, how it will be made and where will it be. This will then be shared with TV producers before the race in the hope of catching the cameras.
Submit entries and any questions you may have to Danny Roberts on droberts@yorkshire.com
2. Welcome to Yorkshire will shortlist the 12 best land art pieces over the three days of action.
3. The shortlisted entries will then be put to a public vote and one lucky winner will receive our coveted land art trophy!
Top tips for creating eye-catching land art are:
1. Position it as close to the race route as possible.
2. Make it as large and as striking as possible so the television helicopters can see it.
3. Land art doesn't need to be bicycle or tour related, it's about celebrating communities and getting people talking.
4. Think about what's connected to a community – a famous face, an event – what makes it special?
5. Land art shouldn't be commercial (a company logo for example) but you may wish to celebrate a specific industry – for example, big pints of beer for breweries? A mouse and cheese for cheesemongers/creameries?
6. Get permission to work on the land you intend to use. Please check with local landowners and ensure the local community is happy with plans.
For more information competition visit http://letouryorkshire.com/landart
Notes to editors:
• The Tour de Yorkshire was launched in 2015 to extend the legacy of the 2014 Grand Départ.
• The men's race is a three-day event with a 2.1 UCI Europe Tour classification.
• The single-day Asda Women's Tour de Yorkshire was awarded 1.2 status in 2016.
• Both races have helped grow the profile of Yorkshire as a destination for fans of world-class cycling.
• Our ambition is to grow the men's Tour de Yorkshire to a four-day race and extend the women's race to two days.
• The race is supported by Yorkshire Bank, Dimension Data, Tissot, Le Coq Sportif, Mavic, Asda and Aunt Bessie's.
The official Tour de Yorkshire website can be found at www.letouryorkshire.com
More information on Bike Libraries can be found at http://bikelibraries.yorkshire.com
To apply to be considered as a Tour Maker visit http://letour.yorkshire.com/tour-makers
For further information, contact:
Nick Howes – Head of Sports Media
Email: nhowes@yorkshire.com
Direct: 0113 322 3505
Mobile: 07590 96482
For further information, contact:-
Public Relations Department, Dransfield Properties Ltd
Tel: 01226 360644
Email: pr@dransfield.co.uk