Gainsborough Town Centre Regeneration Project
Gainsborough Town Centre Regeneration Project
Site Update September 2018
Dransfield Properties Ltd are working in partnership with West Lindsey District Council to deliver the new 56- bedroom hotel which is set to officially open its doors later this month, will be the first in the town, answering the need of such a sought-after service.
Work started in October 2017 on the site of the former Sun Inn Hotel in Gainsborough - the new hotel will be a high quality, traditional Edwardian style building with ground floor restaurant.
The development answers the need for a good quality hotel in the town centre to boost business and tourism in the area. It is part of a wider regeneration of this part of the town centre which also includes:
A joint venture partnership with West Lindsey District Council to refurbish town centre shops with new traditional shop fronts, creating an Independent Quarter in the town.
Improvements to the Roseway Car Park creating additional town centre car parking and an attractive and welcoming arrival point for visitors.
An alfresco dining area and stunning water wall feature inspired by Paley Park in New York.
As the completion dates draws closer we can take a look at the works progress over recent weeks;
Internally the plaster boarding and fire proofing are complete with only final fix, M&E and the odd remedial works outstanding.
Decoration is progressing well on levels 2 and 4 and has now started on levels 3 and 1 which will then allow for the carpets and vinyl to be installed thereafter. Doors, architraves, window boards and skirtings are also substantially complete with hardwood skirting and bump rails to corridors commencing.
Externally, the car park entrance is now in place with paving progressing to the road areas and the tarmac now laid. Kerb edgings and stone work will now be put in place.
Construction of the fountain area is progressing well.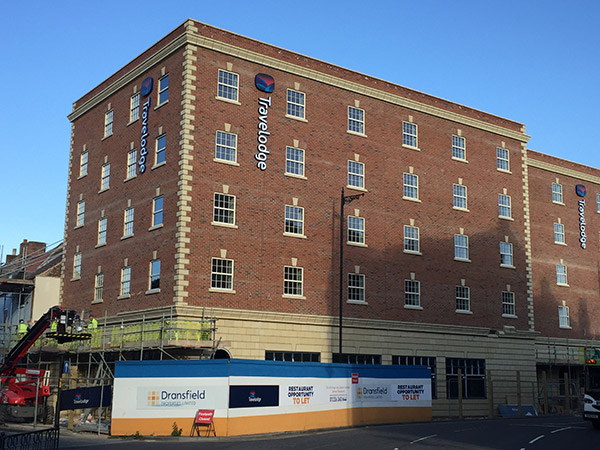 Read more about this project: