Gainsborough Town Centre Regeneration Project
Gainsborough Town Centre Regeneration Project
Dransfield Properties and West Lindsey District Council are working in partnership to transform the Market Street, Church Street and North Street area of the town. Thanks to the unique partnership, the joint venture will also deliver improvements to the Roseway's Car Park as well as the development of the brand new Travelodge Hotel and Ponti's Italian Kitchen Restaurant.
The development is being built on the former Sun Inn site - the disused buildings on the site were demolished earlier in the summer of 2017 and the site cleared.
The project is currently on schedule to be completed by Christmas 2018.
PDR Construction are the main contractors on site.
Site Update April 2018
The site of Gainsborough's new town centre hotel and restaurant is really starting to take shape.
Despite the recent severe weather conditions, the main contractors PDR Construction have now constructed the perimeter scaffold between the 2nd and 3rd floors allowing for the masonry works to the lift shafts, dividing and perimeter walls to progress to the second floor.
The second floor metal framing is now in position, the second fix works including the fitting of the internal bathroom pods and plaster boarding can therefore commence.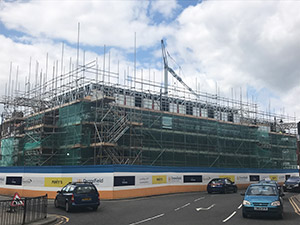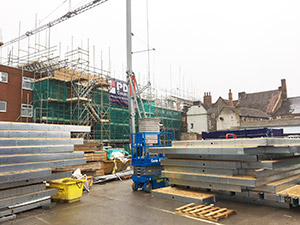 Work is also progressing well on the retail units situated along Market Street where a new independent quarter is being created.
Contractors will continue to work on the empty units along Market Street to deliver the vision of creating smart traditional shop fronts with modern newly fitted interiors, which will fit a range of uses.
Development surveyor at Dransfield Properties, David Hale, said: "We are really pleased with the progress being made on site, especially considering the recent weather conditions we have experienced. This is an incredibly exciting time as we prepare to welcome some truly unique businesses to Gainsborough."
There are plans to hold a Topping Out Event at the end of May 2018 further details to be announced.