Sponsorship
Corporate Social responsibility is at the heart of everything we do here at Dransfield Properties, from acquiring the site, through the construction phase to the delivery of the completed development, we strive to engage with the local community in which we are working in.
We appreciate how important it is for people to support interests, hobbies and causes and to this end our sponsorship policy has a range of beneficiaries, from sport and society to education and culture.
Please see below for further information on who we are supporting throughout 2018:
Welcome to Yorkshire Y30 Members Club
Dransfield Properties is proud to support Welcome to Yorkshire's Y30 Members Club - a group of Yorkshire based businesses that are ambitious, innovative and passionate about Yorkshire.
The county's Destination Management Organisation have gained a reputation as the leading tourism agency in the UK, working with a number of businesses whose core values closely reflect their own.
Y30 represents the perfect opportunity for businesses to build brand awareness, generate business and maximise exposure to the UK's fastest growing sector.

Stocksbridge Park Steels
Dransfield Properties has announced the company is sponsoring Stocksbridge Park Steels Football Club in a three year deal with the local club.
Stocksbridge Park Steels play in the Evo-Stik Northern Premier League. Dransfield Properties will sponsor the away shirt, taking on the main home shirt sponsorship for the following two years.
Dransfield Properties has a long history of supporting grassroots football and was one of the main sponsors of North Ferriby United for more than 15 years.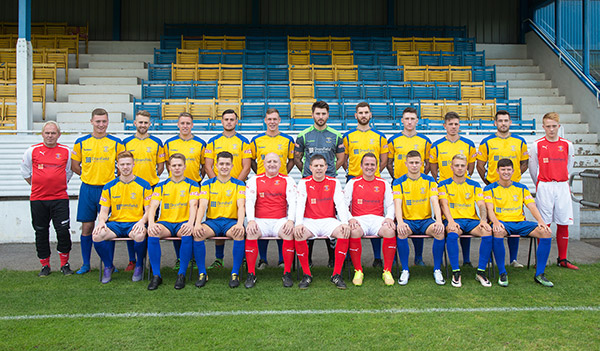 Richard Hayes (Mohican Runner)
North Sheffield runner Richard Hayes – known as the Mohican Runner – is setting himself a tough challenge during 2018 and the team at Dransfield Properties are helping him to get out of the starting blocks.
Richard, from Stocksbridge, aged 36, is a Northern Masters athlete and no stranger to pushing himself to the limit.
Over the next 12 months he will be taking part in 18 separate tough running challenges across the UK – completing 12 10k runs and six half marathons with the aim of raising funds for the NSPCC's Childline.
He'll be setting out to run each 10k race in under 37 minutes and each half marathon in under 80 minutes.
He is being supported in his 2018 challenge by the team from Dransfield Properties who are sponsoring his fundraising push to ensure he can cover the cost of his races as well as his running gear.
Grimethorpe Colliery Band
Dransfield Properties proudly supported the famous Grimethorpe Colliery Brass Band as their principal partner for four years between 2014 and 2018.
The band also performed at the Tour de Yorkshire when the event finished at Fox Valley in April 2017.
For further information or to speak to someone regarding sponsorship opportunities, please contact the Communications Department on 01226 360 644.