The Dransfield Foundation
The Dransfield Foundation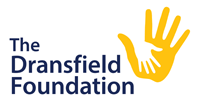 Charity number 1156716
The Dransfield Foundation was set up in April 2014 and is run by a board of trustees.
Grants and donations of more that £63,521.05 have been made to date. Recipients include:
Bold Adventures Bolsterstone, Sheffield - to help with the funding of ensuring young people can access outward bound activities.
Barnsley Youth Choir - to help support the choir participating in the European Choir Games in Riga in July 2017.
Platform - a day centre in Hull which provides activities and support for profoundly disabled young people.
CRY (Jamie Loncaster Memorial Fund) - to support a programme of testing for undiagnosed heart conditions in children and young people in the Yorkshire region.
Gateway Church in Barnsley - to help support a programme of summer activities for children in the town.
Flights for Life – A project in Lincolnshire which gives children and young adults suffering from life limiting illnesses the opportunity to experience the magic of flight.
Clic Sargent – Supporting the local work of Clic Sergeant, a charity which supports children with cancer and their famlies
Readwell – helping the funding towards free books and storytelling sessions at Sheffield Children's Hospital
The Exodus Project - a charity based in South Hiendley, South Yorkshire which organises after school and weekend clubs for less advantaged children.
The Ethel Trust - A community barge project in South Yorkshire which runs sessions for vulnerable and disabled children.
A Red Cross project to provide wheelchairs to children in need in Sheffield and South Yorkshire.
Lincoln St Christopher's School
Bluebell Wood Children's Hospice - a donation to pay for one of the children's bedrooms at the hospice to be refurbished.
The Trustees have identified the following specific priorities for the types of projects they wish to support:
Children and young people under the age of 18 disadvantaged by ill health or terminal illness and their families in respect of the payment of potential treatment, rehabilitation or family holidays
Children's hospices and hospitals
Children and young people under the age of 18 without access to funding, to allow their participation in group led educational projects such as the study of music or safe practice of sports
Support for research projects helping to identify the effectiveness of treatment and promoting the longer term health outcome of children and young people under the age of 18
For more information about the Dransfield Foundation click here.