Charity Fundraising at DPL
Charity Fundraising at DPL
Dransfield Properties supports many charities and good causes through the company's annual charity bike ride as well as through the Dransfield Foundation. The teams at our award winning shopping centres also pride themselves on supporting local cases:
FOX VALLEY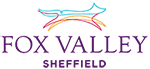 Fox Valley has chosen to support Stocksbridge Community Leisure Centre (SCLC) since opening in June 2016. The leisure centre is a vital facility for the local community and is run by the community and for the community. The team at Fox Valley help with fundraising efforts at all events and during the weekly markets.
MARSHALL'S YARD

Marshall's Yard is supporting two charities during 2018 the first being the palliative care unit within the Scotter Ward at John Coupland Hospital in Gainsborough and the second being Gainsborough's Salvation Army - both charities make an enormous contribution towards the wellbeing of people living in Gainsborough.
SANDERSON ARCADE
The Arcade team supports Cleaswell Hill School which is a day community Special School for 156 children (designated age range 2-19). Some pupils have additional physical difficulties, medical or emotional needs, and others are identified as being within the autistic spectrum. The school has a large, well-qualified and talented team of teaching and support staff who together provide a personalized, quality learning experience for each child. Sanderson Arcade is fundraising this year to raise enough money for the school to buy a Canopy and Outdoor Swing which is estimated to costing £5,000 - £10,000.
SANDERSONS DEPARTMENT STORE

The team at Sandersons Department Store chooses a new charity each year to support and for 2018 they will be raising money for Yorkshire Cancer Research (YCR). They chose to support this particular charity after their friend and work colleague Siobhan Smith fell ill with cancer and participated in a number of challenges raising funds for YCR. The team at Sandersons wanted to support and boost Siobhan's fantastic fundraising efforts and regularly hold raffles and collect at all in store events.

More Charity Fundraising