Copenhagen to Oslo 2017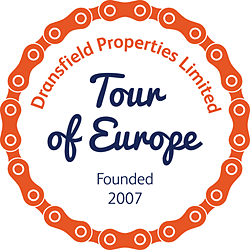 It is now ten years since the team first set out in 2007 on the first leg of the annual Tour of Europe charity bike ride from London to Paris.
Over the years the team have ridden 3,700 miles across Europe and in September the team will cover a further 387 miles when they ride from Copenhagen to Oslo.
Over the years 154 riders have joined the team on one or more legs of the tour and have ridden through ten countries so far through Europe.
The 10th anniversary ride consisting of 9 riders will set off from Copenhagen on September 4th and will arrive in Oslo on September 8th having covered nearly 400 miles and some very tough climbs through two countries.
The riders aim to be back in London, where the first annual tour started in 2007, by 2020.
Videos
Video about the charities and groups we've supported
This year's route:
Day 1 – 4th September - Copenhagen to Angelholm (49 miles)
Day 2 – 5th September - Angelholm to Varberg (87 miles)
Day 3 - 6th September - Varberg to Stenungsund (81 miles)
Day 4 - 7th September - Stenungsund to Stromstad (80 miles)
DAY 5 - 8th September - Stromstad to Oslo (90 miles)
See pictures from the 2016 ride
To see more pictures and to follow the team's progress click on the social media buttons below.
The team will this year support Action Against Cancer. Part of the fundraising will also go towards local causes, community projects and initiatives suggested by each of this year's riders which will be supported through the Dransfield Foundation.
Meet the riders: Mark Dransfield, Paul Dransfield, Andrew Malley, Tim Downing, Paul Sutherland, Peter Swift, Steve Wilson, Simon Bland
Support vehicle: Paul Anderson and John White