Copenhagen to Oslo 2017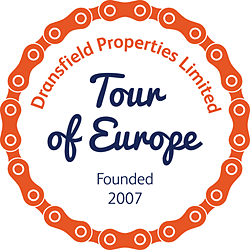 The Dransfield Properties charity cycle ride team will take on the eleventh leg of the company's annual Tour of Europe challenge in September 2017.
This year's route will see the cyclists leaving Copenhagen on 4th September, finishing in Oslo on 8th September.
The riders aim to be back in London, where the first annual tour started in 2007, by 2020.
Videos
Message From Team Sky
Message From Great Britain Academy
Video about the charities and groups we've supported
This year's route:
Day 1 – 4th September - Copenhagen to Angelholm (49 miles)
Day 2 – 5th September - Angelholm to Varberg (87 miles)
Day 3 - 6th September - Varberg to Stenungsund (81 miles)
Day 4 - 7th September - Stenungsund to Stromstad (80 miles)
DAY 5 - 8th September - Stromstad to Oslo (90 miles)
See pictures from the 2016 ride
To see more pictures and to follow the team's progress click on the social media buttons below.
The team will this year support Action Against Cancer as well as continuing its support of Bloodwise. Part of the fundraising will also go towards local causes, community projects and initiatives suggested by each of this year's riders which will be supported through the Dransfield Foundation.
To find out more about the work of Professor Justin Stebbings supported by Action Against Cancer please click here.
Meet the riders: TBC
Support vehicle - TBC